Clear Insights: The Clear Choice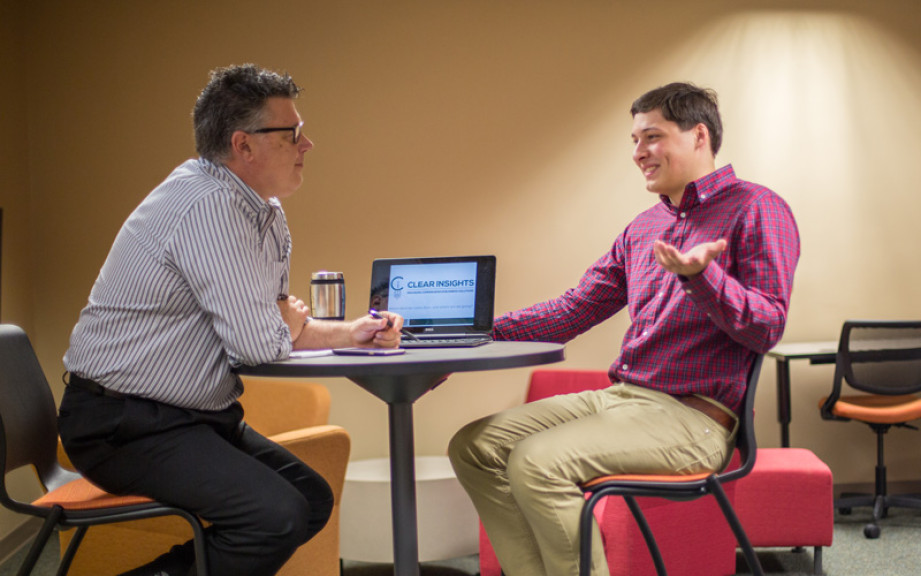 FOR RELEASE: Tuesday, July 5, 2016
QUESTION:
What does a church-funded village school in Sierra Leone have in common with an American college-based counseling center and an international trade and craft support organization?
ANSWER:
They are all involved with and assisted by Clear Insights, an entirely student-led business services company.
Launched in 2015 by students and advisory professors, Clear Insights holds the distinction of being Huntington University's first completely student-led, profit-based endeavor.
First made possible through donations provided to the school by the Lilly Endowment in 2014, Clear Insights' driving purpose is simple: to match students who are ready and willing to work with companies that have projects to be completed in innovative ways.
"While Clear Insights advertises a number of services, the ones that seem to provide the greatest benefit to clients relate to video/film production, accounting and payroll services, graphic design and social media services," said Troy Irick, a business professor at HU and one of two professional advisors to the student staff of Clear Insights.
Some of the services that Clear Insights provides can be seen in several of its currently ongoing projects.
For example, at LifeSpring Counseling Center in Huntington, Indiana, students are working through Clear Insights to handle the full range of the center's accounting and bookkeeping needs.
At CK Thomas and Sons, a group that seeks to protect and support endangered trades and craftsmanships in foreign countries, three students from Clear Insights serve as the startup company's entire marketing department. This includes the production of a promotional video, as well as the provision of a full marketing strategy.
One of Clear Insights most ambitious projects, however, has taken students' efforts to the other side of the world, all the way to the Madina Village School in Sierra Leone, West Africa. It's here that the student-led company has engaged in a partnership with the crowdfunded school to manage its campaign for a medical clinic. Students from HU's business and ministry & missions departments are working through Clear Insights to provide research for funding opportunities and processes for the charity-driven school.
A HOST OF OFFERINGS
Clear Insights is proud of its capability as a "one-stop-shop" for companies. Kyle Burkholder, the assisting managing director of Clear Insights for the 2016-17 school year, points out that one advantage Clear Insights has over similar companies is its affordability. Clear Insights' partnership with Huntington University allows for more flexibility with allocation of funds and permits the company to provide professional-grade services to smaller businesses for less.
"We pay our students," Burkholder explained, "but [we] can really help small businesses that do not have a large amount of capital to splurge on services. What I really love, though, is how we have been able to provide students with real world experience and get paid for it. The classroom is good, but applying what you have learned is where it becomes great. Clear Insights makes this possible."
A RELIABLE RESOURCE
The true success of Clear Insights is perhaps best displayed through its consistency in completing jobs.
"As far as I'm aware, Clear Insights has done work for every client that has approached us, which is a huge accomplishment considering 15 months ago we had no clue what projects we were capable of," Burkholder stated.
In that 15 months, Clear Insights has completed over 30 projects with nearly 50 students assigned to ongoing projects and over $15,000 generated in client fees, according to estimates by Irick.
"From a big picture perspective, the greatest accomplishment is seeing the realization of a vision come to be," Irick said. "The idea of creating a business wholly managed by students is pretty unique for a university our size."
Irick also was sure to mention the value of real-world experience students gained by working with Clear Insights.
"Something like Clear Insights really hasn't been done before, and making it work this past year has been wonderful," said Chris Penny, the new managing director of Clear Insights. "We have an excellent opportunity to continue to move forward and provide even more services to local businesses and nonprofits. In the end, Clear Insights exists to serve students and clients, and we plan to continue doing that to the best of our abilities."