Conner Responds to HU's Ag Program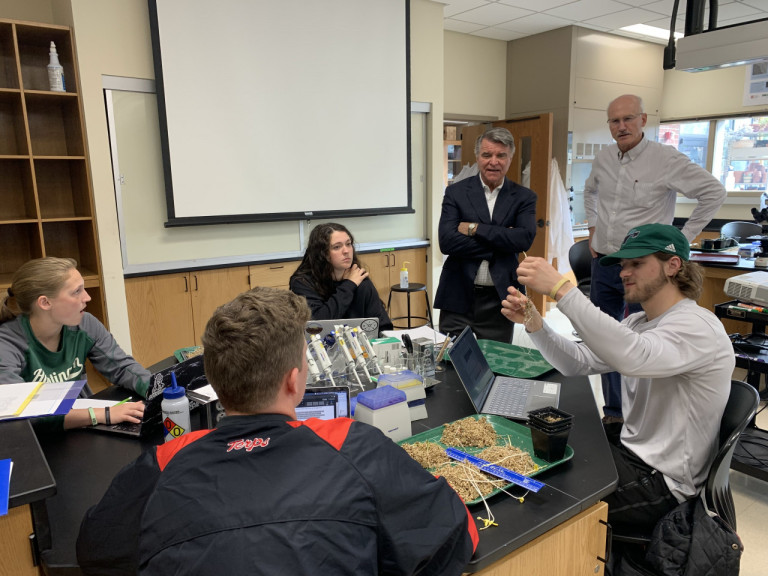 FOR RELEASE: Friday, April 15, 2022
On March 24, Chuck Conner, president and CEO of the National Council of Farmer Cooperatives (NCFC), was on Huntington University's main campus to be a speaker for a special breakfast event during National Ag Week and to spend time with HU's agriculture students.
After touring ag classrooms, the Don Strauss Animal Science Education Center, and Three Rivers Farm, Conner was impressed.
"I have very high regard for what HU is doing in serving farmers in rural areas. Farmers face so many challenges beyond their control, and I have found that most rely upon faith to sustain them through all of these challenges. HU is well positioned to guide and counsel in both areas."
Conner pointed out that "agriculture will continue to be a mainstay in Northeast Indiana in terms of jobs and economic growth."
"I would like to see greater investment in this region in infrastructure and processing in order to keep our commodities and our farmers working in this region. We also have a lot of manufacturing in this region with workers who are likely wanting to farm part time rather than full time. I believe HU can play a substantial role in making sure that all farmers — part time and full time — have the tools they need for success."
As the president and CEO of the NCFC, Conner works to promote and protect the business and public policy interests of America's farmer-owned cooperatives. Conner has accomplished policy work at the state, national, and international level. Before joining the NCFC, Conner served as the Deputy Secretary at the U.S. Department of Agriculture.