Consensus Reached: Huntington University Is a Top Christian College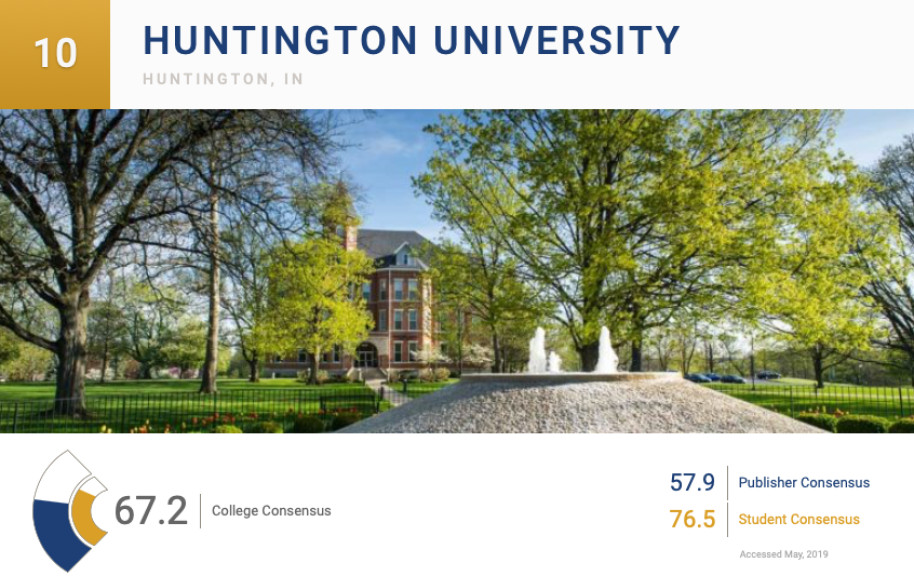 FOR RELEASE: Thursday, September 12, 2019
CollegeConsensus.com has ranked Huntington University 10th on its list of the 80 "Best Christian Colleges." Huntington University is the only Indiana school to appear in the top 15.
"Huntington University is proud to be listed among the top Christian colleges in the nation," said Vice President for Enrollment Management & Marketing Daniel Solms. "What makes this ranking special to us is the fact that our students had a voice in this ranking. It is their positive experiences with our faculty and staff, their love of our community and their confidence in our programs that landed us on this esteemed list."
College Consensus' "Best Christian Colleges" list identifies the Christ-centered schools (as defined by the Council for Christian Colleges and Universities) that are the most highly regarded by combining data from reputable news outlets and student review sites. The project's aim is to provide a score that takes into account all the factors all other reputable lists use as their criteria; each score should be a comprehensive view of the school's overall value to prospective students.
Each school receives a score based on its ranking on sites such as the U.S. News and World Report,The Wall Street Journaland WalletHuband a score based on its ratings for student satisfaction in online reviews. The average of both publisher recognition and student satisfaction becomes the school's College Consensus overall score.
To see the complete list and see Huntington University's score breakdown, visit collegeconsensus.com.