Digital creative agency opens in Roanoke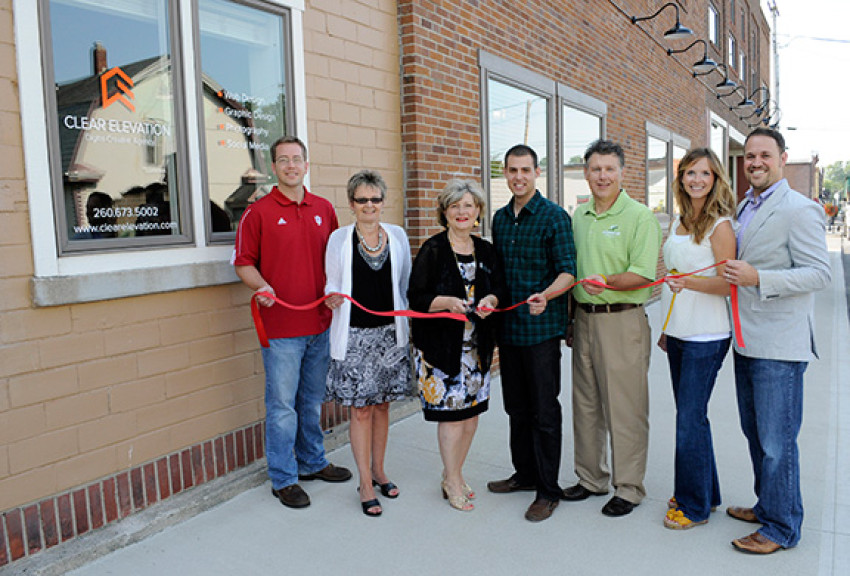 FOR RELEASE: Monday, August 12, 2013
ROANOKE, Ind. — Clear Elevation, LLC, a digital creative agency, has opened its doors in downtown Roanoke, Ind.

In a partnership with Reusser Design, LLC in Roanoke, Clear Elevation is the first company formed under the umbrella of HU Ventures, Inc. HU Ventures was established last year by Huntington University as a wholly-owned, for-profit subsidiary to help provide new and innovative resources for the university.

"Huntington University is excited about the partnership with our alumni Nate (2004) and Julie (2006) Reusser to create a company which offers high-quality digital media services to clients as well as providing jobs in the area," said Dr. Ann McPherren, senior vice president for strategy.

Today, during a special ribbon-cutting ceremony, Clear Elevation was welcomed to the community.

"We are excited to partner with Huntington University in this new venture. This is a great opportunity to connect with alumni and to provide local business with cost-effective services," said Nate Reusser, president and owner of Reusser Design, along with his wife Julie.

Clear Elevation is run by business manager and creative director Carson Sprunger. A native of Berne, Ind., Sprunger holds a bachelor's degree in business administration from Bluffton University in Bluffton, Ohio. He also studied graphic design as a minor. He has previous work experience in marketing, graphic design, photography, web analytics, copywriting, web design and project management.

Clear Elevation is currently accepting clients for web design and development, social media, photography and graphic design work. For more information, visit www.clearelevation.com or contact Sprunger at 260-673-5002 or carson@clearelevation.com.
Huntington University is a comprehensive Christian college of the liberal arts offering graduate and undergraduate programs in more than 70 academic concentrations. U.S. News & World Report ranks Huntington among the best colleges in the Midwest, and Forbes.com has listed the university as one of America's Best Colleges. Additionally, Princeton Review has named the institution to its "Best in the Midwest" list. Founded in 1897 by the Church of the United Brethren in Christ, Huntington University is located on a contemporary, lakeside campus in northeast Indiana. The university is a member of the Council for Christian Colleges and Universities (CCCU).