Experimental Short Film Project Brings J-Term Class Together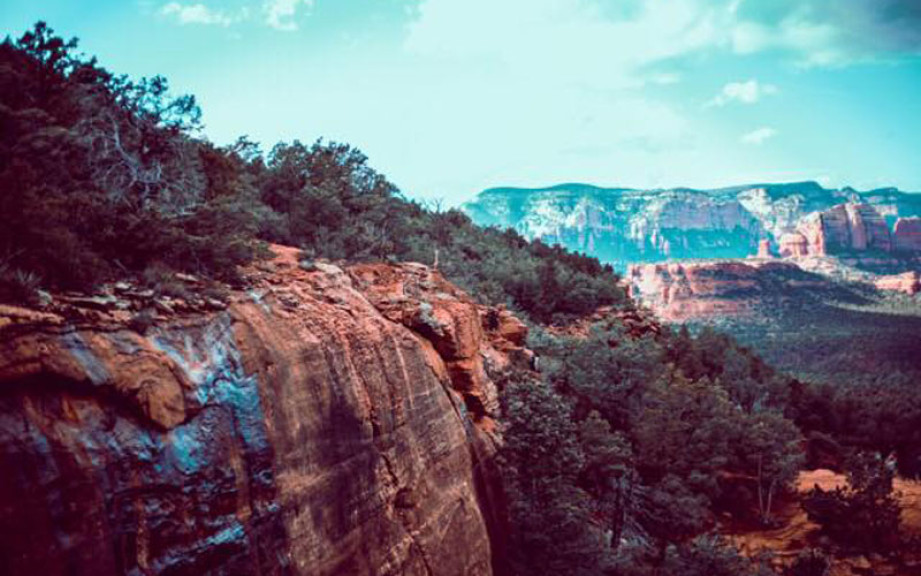 FOR RELEASE: Thursday, January 12, 2017
A group of students tote cameras and film gear along a hillside as the sun approaches golden hour. They frame up their actor, who is contemplative, thoughtful, and enamored with the beauty that surrounds them. Beads of sweat form on the operator's face as he lines up the shot. Sun streaks boldly through the folded hands of the talent, who has ascended a rock. She is now in prayer. Everyone is quiet, tired from the hike, watching the scene unfold. After a moment, the director of photography says, "OK, I think we got it." The crew packs up and moves on.
A portrait of this year's January Term (J-Term) project, called: "Hymn of St Francis."
Project synopsis: "Hymn of St Francis" is an experimental short film that tells three overlapping stories through stunning visuals and vivid orchestral music.
Creative approach: while three college students read excerpts from their prayer journals to their small group leader around a campfire, snapshots of their lives are shown through a series of vignettes captured via quiet observational footage, majestic time-lapse shots, and aerial drone coverage. The film concludes with the leader reading the 'peace' prayer from St. Francis of Assisi.
Our J-Term students have been divided into three teams of five to tackle their assigned portion of the project. Actors have been cast from within the groups and have been charged with the task of writing the prayers. Directors and Directors of Photography have been conceptualizing and shot-listing while Producers have been lining up locations, props, and all other logistics.
Students have been out shooting day and night with drones, dollies, gimbals, low-light and 4.6K cinema cameras. They have been logging hundreds of miles, travelling to the the Imperial Sand Dunes, the San Tan and White Tank Mountains, Sedona, Flagstaff, and the Tonto National Forest. As their efforts will be collected and formed into the final piece in the coming weeks, I can't help but be grateful for how they've engaged with reckless abandon on this project, which has shaped up to be an enlightening, bond-forming, cinematic adventure for all!
Article: by Phil Wilson, Program Director and Lead Film Faculty. (Published in The Filmstrip, January 2017 edition)
Photo: A stunning vista captured by one of the J-Term teams during their trip to Devil's Bridge, Sedona.)