Faculty Collaborate on New Textbook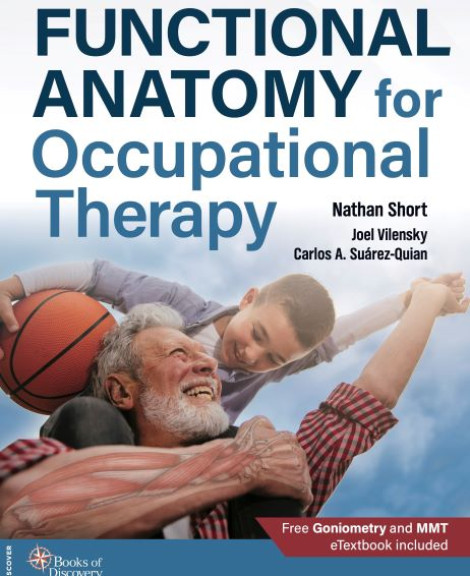 FOR RELEASE: Wednesday, September 7, 2022
Drs. Nate Short and Joel Vilensky have published a functional anatomy book geared specifically toward entry-level occupational therapy faculty and students.
Short and Vilensky began co-teaching anatomy and kinesiology in 2014 when Huntington University launched its Doctoral Program in Occupational Therapy. At that time, Short and Vilensky relied primarily on textbooks and resources from other disciplines. Realizing the need for a comprehensive OT-specific resource, they approached several publishers with the idea and eventually contracted with Books of Discovery, a publisher based in Colorado with a strong track record of publishing engaging, accessible anatomy resources with an emphasis on function (their Trail Guide to the Body textbook just sold its millionth copy). Books of Discovery provided robust support, including a developmental editor, real-time peer review from experts in the field, access to content from the Trail Guide to the Body books, and a prolific anatomy artist, Robin Dorn, who created original artwork geared toward occupational therapy.
"Dr. Vilensky and I had been teaching a functional anatomy course for OT students for several years, using a variety of resources from other disciplines, none of which were comprehensive resources geared to future occupational therapists," said Dr. Short. "Our hope is that these complimentary resources, Functional Anatomy for Occupational Therapy and OT Guide to Goniometry and MMT (eTextbook), elevate the foundational knowledge-base of functional anatomy for future occupational therapists (OTs) and occupational therapy assistants (OTAs), thereby improving patient care."
An additional author, Carlos Suarez-Quian, developed cadaver images, which are paired with illustrations to provide students with an in-depth understanding of underlying anatomy. Suarez-Quian is a colleague of Vilensky's who has taught anatomy in the medical school at Georgetown University for many years. He is a prolific anatomist with the unique gift of capturing detailed cadaveric dissections in photographs, and he supplied a comprehensive library of musculoskeletal images that were paired with illustrations in the textbook. For students, this offers a dual perspective of an actual human body and an artist's rendering, helping to conceptualize the design and function of muscles and other body structures.
The text, entitled Functional Anatomy for Occupational Therapy, also includes a supplemental eTextbook, OT Guide to Goniometry and MMT, a comprehensive resource featuring photos and videos of range of motion (ROM) and manual muscle testing (MMT), common techniques in clinical practice. The photos and videos were recorded at a photo shoot in the musculoskeletal lab at
Parkview Hospital Randallia, and voiceovers were completed in the DMA studio on Huntington University's home campus.
Huntington University is a comprehensive Christian college of the liberal arts offering graduate and undergraduate programs in more than 70 academic concentrations. U.S. News & World Report ranks Huntington among the best colleges in the Midwest, and Forbes.com has listed the university as one of America's Best Colleges. Founded in 1897 by the Church of the United Brethren in Christ, Huntington University is located on a contemporary lakeside campus in northeast Indiana. The nonprofit university is a member of the Council for Christian Colleges and Universities (CCCU).