Fairchild Releases Book About Early Christianity in Ephesus and Asia Minor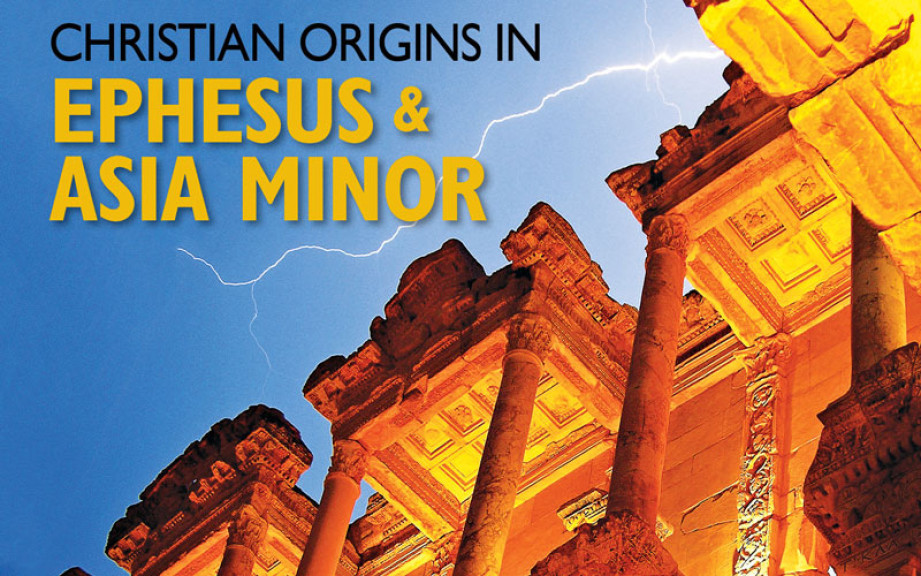 FOR RELEASE: Thursday, August 13, 2015
Dr. Mark Fairchild, professor of biblical studies and chair of the Bible and Religion department, released his first book, Christian Origins in Ephesus and Asia Minor, in July.
The ancient city of Ephesus was the largest city in Asia Minor, and it was frequently mentioned in the New Testament, explained Fairchild. The gospel was first shared with the people of Ephesus in the middle of the first century and the Scriptures continued to describe the fortunes of the church up through the end of the century.
"Christian Origins in Ephesus and Asia Minor describes the progress and frustrations of a newly-developing Christian community as it struggled to find its way in a hostile secular environment," said Fairchild. "While the Scriptures provide us with an abundance of information, the New Testament only explains a portion of what was happening during the early developmental years of the church in Ephesus. This volume supplements the biblical account with additional information from ancient literary sources, archaeological discoveries, and early Christian sources. Additionally, this book describes the growth and development of several nearby churches in Asia Minor. Ministry from the mother church at Ephesus produced Christian congregations throughout Asia Minor."
The book features over 160 full color photographs of Biblical and archaeological remains that relate to the discussion. Fairchild took all of the photographs during his many years of travel in Turkey. It also includes 19 maps, a glossary, time lines and bibliography.
Christian Origins in Ephesus and Asia Minor was written primarily for students, pastors and laypersons, said Fairchild. However, the book includes many sidebars that offer scholars and students more detailed historical and archaeological information not included in the main text.
The book also describes the growth of churches in Colossae, Hierapolis, Laodicea, Philadelphia, Sardis, Thyatira, Pergamon, Smyrna, Miletus, Aphrodisias, Metropolis, Nysa, Magnesia, Tralles, Alexandrian Troas, Assos, Nicomedia and Nicaea.
Christian Origins in Ephesus and Asia Minor was published by Arkeoloji ve Sanat ("Archaeology and Art"), a large publisher in Istanbul that specializes in archaeological publications. It was released in Turkey a few weeks ago and is now available in the United States via Amazon.com.
Fairchild worked on the publication during a sabbatical where he spent a total of six months traveling extensively throughout Turkey.
During that time, Fairchild had speaking engagements at the Ephesus Meeting in ancient Ephesus, presented a paper at the Mersin Archaeological Association and was invited to the Lebanese Embassy in Ankara.
"At the embassy, I met the ambassador from Lebanon, had lunch with him and spent the afternoon explaining my research," Fairchild said. "I also led a 10-day tour of Biblical sites in Turkey for a group of 44 professors. In March, I was contacted by a film production company in Ankara and after 10 weeks of planning, we flew to the region of ancient Cilicia (Paul's home province) and spent five days filming a documentary featuring several of my discoveries and my research in Cilicia."
Fairchild received his Ph.D. in New Testament Studies from Drew University. He also completed Ph.D. coursework at Union Theological Seminary (NY) and Princeton Theological Seminary. Fairchild has twice received research grants from the National Endowment for the Humanities. In 1992, he collaborated with 11 other scholars at Yeshiva University exploring the Greek encounter with Judaism during the Hellenistic Period.
In 2002, he joined 20 other scholars at the University of Chicago to investigate societal transformations and the legitimization of power in the early Islamic states. Fairchild is currently the program director for the Ephesus Meeting, an academic conference at the ancient site of Ephesus in Turkey. He annually travels to Turkey, Greece, Israel, Egypt and Jordan for research and to conduct study tours. He has visited and researched over 300 ancient sites throughout Turkey that date back to the Greek, Hellenistic and Roman periods.
Fairchild's recent discovery of two previously unknown ancient synagogues in Turkey (including the world's oldest known synagogue) was published in the Biblical Archaeology Review in 2012. He also has contributed several articles to academic journals and has presented papers at several venues.