Foresters Honor Dr. Zurcher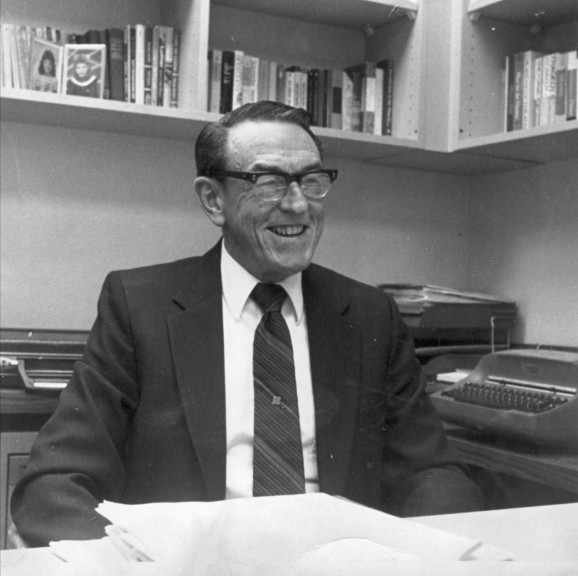 FOR RELEASE: Monday, September 14, 2020
HUNTINGTON, Ind. — Dr. Carl Zurcher, professor emeritus of speech, beloved teacher, and theatre director to hundreds of Huntington University students, passed to his eternal reward on September 11, 2020. Born on a farm near Berne, Indiana, to Fred F. and Martha (Valentine) Zurcher, Carl graduated as valedictorian from Geneva High School.
Zurcher began his college education at Huntington University (then College) in 1942 but was interrupted by World War II, where he served with the 104th Infantry (Timberwolf) Division in Holland, France. Returning to HU after the war, he began dating Mabel (Alpaugh) Thompson his senior year and graduated with a degree in speech and history in 1948. He taught at Huntington Township High School for a year and completed a master's degree at Northwestern University.
In 1950, a position opened in the Speech Department at HU, and Zurcher stated that he "was flattered to be invited to teach at his alma mater." He accepted the position and began a lifelong devotion to Huntington University, where he taught for 39 years. After completing his first year of teaching at Huntington he married Mabel Thompson in 1951, a marriage of mutual devotion that lasted until her death in 2018. The Zurchers have two daughters, Beverly Ann (Dan) Brauchler and Carla Jeanne Zurcher, both Huntington alumni.
Among the many positions and chairmanships Zurcher held at the institution was his service as registrar from 1953 to 1964 and chair of the Division of Humanities and Bible from 1965 until his retirement. Zurcher was one of the principle faculty members who worked tenaciously for national accreditation in 1961. Zurcher often cited this as one of the highlights of his service to Huntington University. One of the leading members of the faculty, he was always spoken of highly by his colleagues. Dr. Gerald Smith described him as "teacher … exemplar" and "persuasive" in faculty meetings. Dr. William Hasker states, "He was there with a lot of wisdom and judgement, and he would always take the time to work through the problem."
The impact he had on students was immeasurable. Many have commented on his excellent abilities in teaching and directing, but most of his former students have reflected on the impact this humble Christian gentleman had on their lives. Phrases such as "elegance of wisdom and patience," "cherished his counsel always and his friendship," "unconditional love and integrity," and "taught me my work ethic and my high standards" are just a few of the accolades of those former students who looked up to Dr. "Z" as a mentor and friend. Perhaps former Vice President for University Relations John Paff said it best…"Oh, what a true Christian gentleman! He embodied the values and virtues of Huntington College, modeling 'Christ, Scholarship, and Service' to generations of HC and HU students."
During his years at Huntington University, Dr. Zurcher was recognized many times for his talent and contribution. He was elected four times by the student body as Professor of the Year, received the Alumnus of the Year Award in 1974, was awarded a Centennial Medallion in 1996 and received an honorary Doctor of Humanities degree in 1989. In 2005, the University further paid tribute to Dr. Zurcher by naming the auditorium in the Merillat Centre for the Arts in his honor.
Dr. Carl Zurcher's life and work can best be summed up with the verses from 1 Corinthians 13:4-7: "Love is patient, love is kind. It does not envy, it does not boast, it is not proud. It does not dishonor others, it is not self-seeking, it is not easily angered, it keeps no record of wrongs. Love does not delight in evil but rejoices with the truth. It always protects, always trusts, always hopes, always perseveres."
Huntington University is a comprehensive Christian college of the liberal arts offering graduate and undergraduate programs in more than 70 academic concentrations. U.S. News & World Report ranks Huntington among the best colleges in the Midwest, and Forbes.com has listed the university as one of America's Best Colleges. Founded in 1897 by the Church of the United Brethren in Christ, Huntington University is located on a contemporary lakeside campus in northeast Indiana. The nonprofit university is a member of the Council for Christian Colleges and Universities (CCCU).