Foresters Take Home IASB Video School of the Year Award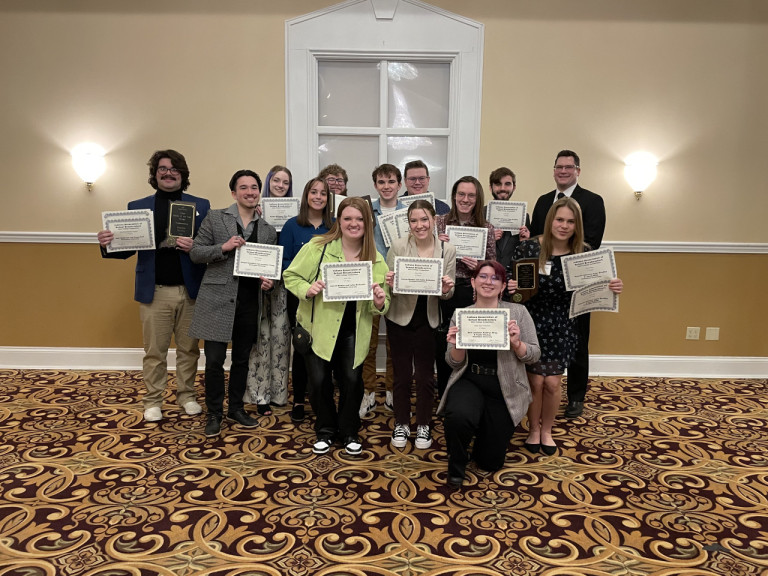 FOR RELEASE: Wednesday, April 19, 2023
Huntington University was named Indiana's Video School of the Year by the Indiana Association of School Broadcasters (IASB) at the IASB's College Award Ceremony on March 25 in Indianapolis. In addition to this honor, students from HU's animation, film, and television production majors earned a total of 15 awards (with 28 students represented in those 15 awards).
2023 IASB College Broadcasting Competition Awards for Huntington University:
Video Division
Video Spot Production
Seth Lecheler, Kathryn Wray, Taylor Stickan
Music Video
Joseph Soundara and Jonathan Young
Shay Reyes and Elliot Martin
Non-News/Sports Program
Alex Anderson and Grace Earl
Cinematography
Elliot Martin
Short Film
Hannah Johnson, Tyler Bradley, Jacob Klitz
Jaycee Walden and Callie McKeown
Video School of the Year
Huntington University
News Division
Video News Program
Mia Splendore and Sam Delagrange
Video Package
Megan Hostetler
Video In-Depth
Ericka Whitman, Shay Reyes, Ella Nosek
Photojournalism
Sam Delagrange
Elliot Martin
Emerging Media Division
Animated Story
Sydni Wolpert, Matthew Raman, Savannah Kern
David Rozema, Nicholas Robinson, Joseph Landon
Motion Graphics
Quinn Cormier, Scott Wood, Parker Holzinger
The IASB is an organization consisting of and supporting Indiana high schools and colleges to promote professional excellence and student recognition in the area of media education. Membership consists of secondary schools and post-secondary schools that offer academic, career technical education or extra-curricular programs related to electronic media.
Huntington University is a comprehensive Christian college of the liberal arts offering award-winning graduate and undergraduate programs in more than 70 academic concentrations. Founded in Huntington, Indiana, in 1897 by the Church of the United Brethren in Christ, Huntington University has over a century of experience educating graduates who are ready to impact the world for Christ through scholarship and service. The nonprofit university operates at three academic locations, including the original home campus in Huntington, a doctoral program in occupational therapy location in Fort Wayne, Indiana, and an undergraduate and doctoral program location in Peoria, Arizona. Online programs are also available. Huntington University's home campus offers 17 men's and women's athletic programs, and the university is a member of the Council for Christian Colleges and Universities (CCCU).