Fountains Shimmer over Lake Sno-Tip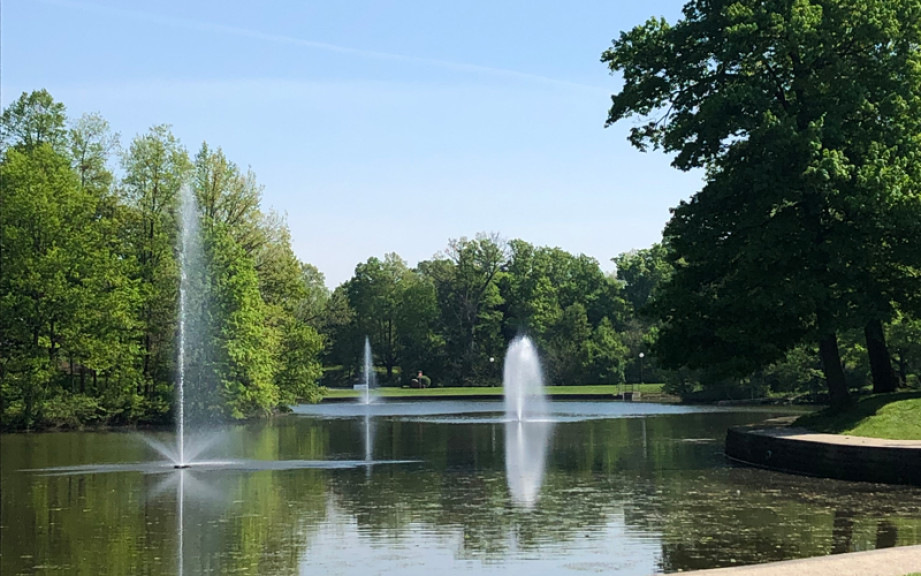 FOR RELEASE: Thursday, May 30, 2019
Lake Sno-Tip is even more beautiful after the addition of two new fountains over the summer, bringing the total number of fountains on the lake to three.
There are ecological benefits to having three fountains on the lake, in addition to the aesthetic benefits. Fountains provide aeration, improving oxygen levels in the water that will benefit the creatures and plants that live there.
"Fountains aren't just a decorative addition to small lakes like Sno-Tip," said Adrienne Funderburg, Huntington University biology alumna and current Research Coordinator for the Lily Center for Lakes and Streams. "They can also positively impact the lake's health. Fountains circulate deep water to the surface, replenishing oxygen at the lake bottom and keeping surface water in motion to discourage algae growth."
Funderburg conducted research on the health of Lake Sno-Tip last year and concluded that fountains would be a worthwhile investment.
"In the lake health study I performed in 2017," said Funderburg, "I saw evidence that deeper points in Lake Sno-Tip are low in oxygen, which allows muck to build up and reduces living space for fish and other animals. I hope the additional fountain will help combat these effects and be a blessing to Sno-Tip and all that live in and around it."
One of the brand-new fountains was made possible through the generous donation of Dr. Lars and Kathy Andersen, longtime supporters of Huntington University. Both Andersens attended Huntington University, and Lars is a 1969 alum.
The Andersens' 50-year romance began at Huntington University when they met on the first day they were on campus together. Although they are both from Lansing, Michigan, they attended separate United Brethren churches and had not knowingly crossed paths. From that day on, however, their lives would never be the same. In addition to a budding relationship with each other, they were building a relationship with their university.
Today, Huntington University holds a special place in both of their hearts, and they think other alums feel the same way. No matter how long a Forester has been away from campus, memories come flooding back the moment alumni catch a glimpse of familiar sights like Becker Hall and Lake Sno-Tip.
"We feel a connection with it every time we're here," said Lars. "There's such a great atmosphere when you get to campus – you can feel the Christian atmosphere."
"It's always a nice place to come back to," added Kathy. "Anyone who attended here feels a connectedness here."
After studying at Huntington, the Andersens moved back to Michigan and were not closely connected to the university for a few years. By the 1990s, they had become more active in the university's governing societies. Lars joined the President's Advisory Council on Excellence (PACE) and later served as Alumni Board president for two years. Today, he is a member of the Board of Trustees.
Returning to campus for the October 2018 Trustees meeting, the Andersens had their first opportunity to see the fountain at work on Lake Sno-Tip. They were pleased to see all three fountains on the water.
"They make the lake look very inviting," said Lars.
Although not everyone has the opportunity to donate a fountain to their alma mater, the Andersens believe supporting Huntington University is important because it allows the university's mission to endure. As a result, students will continue to graduate and impact the world for Christ through scholarship and service.
Being a Forester, the Andersens agree, means that you are part of a family that will stick with you no matter where life takes you after graduation.
"[Huntington University's] size allows you to be involved in more activities," said Lars. "On a big campus, that doesn't happen."
"It's more like a family," said Kathy. "When you come back, you see a lot of familiar faces."
Lars, for example, bumped into one of his former coaches on a previous trip to campus. Such spontaneous reunions have taken place between Foresters across the glove for generations, and with the continued support of alumni and friends like the Andersens, they will continue long into the future.
"As an HU alum," said Funderburg, "I'm thankful to see my alma mater supported in its growth and development, and as an alum now working in environmental science, I'm especially excited to see this support extended not only to HU's academic programs, but to campus's natural spaces as well."
Lars has a similar perspective.
"It's nice to see how people support the university," said Lars. "I want to see it keep going and see more alumni involved."