Gov. Holcomb Cuts Ribbon at HU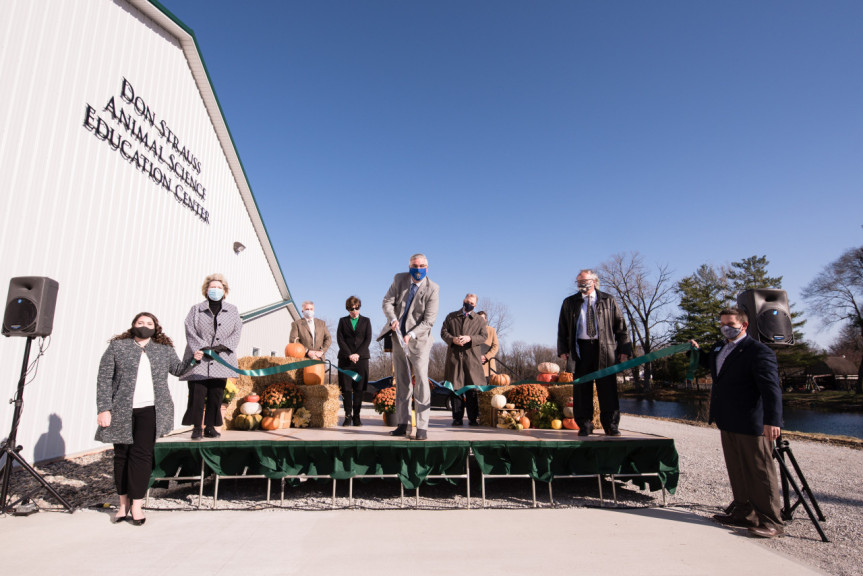 FOR RELEASE: Monday, November 16, 2020
HUNTINGTON, Ind. — Huntington University is pleased to welcome Indiana Governor Eric Holcomb to campus today for the official ribbon cutting of the Don Strauss Animal Science Education Center.
Joining Governor Holcomb at this historic event are Bob Krouse, chief executive officer of MPS Egg Farms; Marty Songer, executive director of AVIS Foundation, Inc.; David Findlay, president and chief executive officer of Lake City Bank; Bruce Kettler, director of the Indiana State Department of Agriculture; Richard Strick, mayor of Huntington (class of 2011); Madison Riggle, field sales representative, DEKALB Asgrow (class of 2018); Nate Perry, managing director of the Haupert Institute for Agricultural Studies; and Dr. Sherilyn Emberton, president of Huntington University.
The construction of the Don Strauss Animal Science Education Center was announced in December 2019, and construction officially began in early 2020. Named in honor of the late Don Strauss, a fourth-generation member of the Strauss family in North Manchester and founder of Strauss Veal Feeds and Midwest Poultry Services, the 10,000-square-foot space will house many of the key livestock elements of HU's agriculture degrees, including large flexible pen space and an on-site classroom. The adaptable space will be equipped to host a variety of livestock to allow students up-close and personal hands-on learning experiences.
Launched in the fall of 2014, Huntington University's Haupert Institute for Agricultural Studies promotes a Christian perspective on agriculture, which recognizes a responsibility to be good stewards of God's creation and to examine questions of sustainability and justice. The institute welcomed its first students in the fall of 2015 and as of fall 2020 Huntington University has over 50 students pursuing degrees in the agriculture industry.
Huntington University is a comprehensive Christian college of the liberal arts offering graduate and undergraduate programs in more than 70 academic concentrations. U.S. News & World Report ranks Huntington among the best colleges in the Midwest, and Forbes.com has listed the university as one of America's Best Colleges. Founded in 1897 by the Church of the United Brethren in Christ, Huntington University is located on a contemporary lakeside campus in northeast Indiana. The nonprofit university is a member of the Council for Christian Colleges and Universities (CCCU).