HU Arizona Numbers Among 2019 Graduates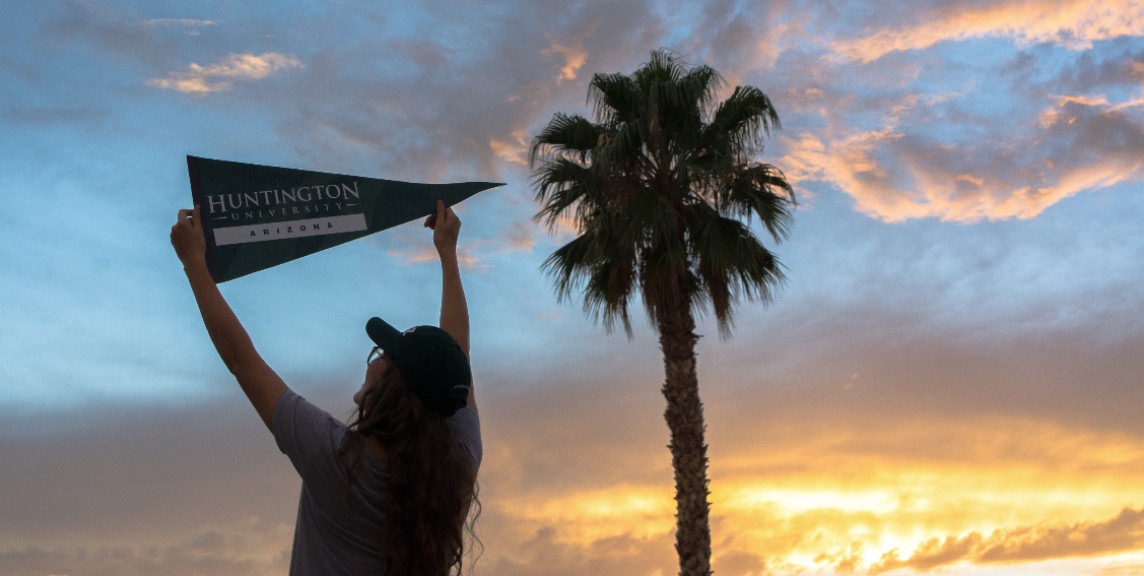 FOR RELEASE: Tuesday, May 7, 2019
For the first time ever, Huntington University Arizona students will be among the ranks of the Huntington University graduating class, marking a new era in HU history. The six Arizona members of the Class of 2019 will receive their diplomas during an official ceremony in Peoria on May 23.
"Watching our first group of graduates receive their Huntington University diplomas is going to be a truly rewarding moment," said Jeff Berggren, director of Arizona operations. "It will be mixed emotions, of course, because most of them were with us when we started our Arizona location three years ago, and we will miss them. But having them graduate was the shared goal all along!"
These graduates are a testament to the success of the HU Arizona location, now completing its third academic year of operations, and the caliber of its students. The graduates finished their HU bachelor's degrees in three years or less because they transferred from other institutions or from the HU main campus. Together, they represent three of the original academic programs HU Arizona offered.
In their time as HU students, the graduates completed internships at places like the Peoria Sports Complex, TheaterWorks, Woodcraft, the Maryvale Revitalization Corporation, the Arizona Diamondbacks, and television stations. They also completed numerous class projects for philanthropic or nonprofit organizations. Along the way, they garnered six Broadcast Education Association awards, four Rocky Mountain Association Student Emmys, one Professional Rocky Mountain Association Emmy, two Arizoni Awards and three Arizona Film Festivals.
"One of the most meaningful things for me about these graduates is that they took a bit of a risk with us when we were literally just starting out," said Berggren. "They have excelled. They are passionate and talented. They have helped put Huntington in the position of being the #2 most awarded media university in the country. That's a pretty cool legacy they are taking out into their professional careers."
Huntington University Arizona is pleased to introduce the six members of the Class of 2019:
Josiah Duka, Phoenix, Arizona
Katie Hopp, Phoenix, Arizona
Emerald Leong, Santa Monica, California
Joe Stone, Glendale, Arizona
Matthew Torres-Gomez, Glendale, Arizona
Nicole Wethington, Tipton, Iowa
The six graduates were some of the first students to ever take HU classes in Peoria. Josiah Duka, Katie Hopp, Joe Stone and Matthew Torres-Gomez have been a part of HU Arizona since its inception. Torres-Gomez, officially the first HU Arizona graduate, finished his coursework in December and is currently working at Fervor Creative.
Huntington University Arizona opened its doors in 2016, welcoming students seeking a degree in digital media arts. The facility, a 30,000 square-foot building, houses bachelor's degree programs in animation, film production, broadcast media and graphic design. The facility features film and TV studios, high-end computer classroom/labs, private editing suites, a state-of-the-art TV control room, Foley pit, a host of EFP and cinema cameras, and lighting gear for student production work.
Huntington University is a comprehensive Christian college of the liberal arts offering graduate and undergraduate programs in more than 70 academic concentrations. U.S. News & World Report ranks Huntington among the best colleges in the Midwest, and Forbes.com has listed the university as one of America's Best Colleges. Additionally, Princeton Review has named the institution a "Best Midwestern College." Founded in 1897 by the Church of the United Brethren in Christ, Huntington University is located on a contemporary, lakeside campus in northeast Indiana. The non-profit university is a member of the Council for Christian Colleges and Universities (CCCU).