HU Exceeds Goal by $22M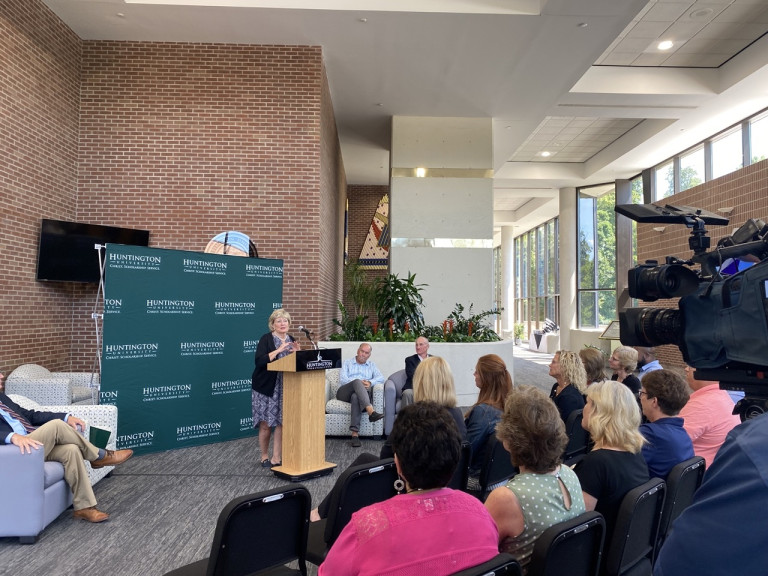 FOR RELEASE: Tuesday, August 23, 2022
Huntington University is pleased and humbled to announce that the Step Forward Comprehensive Campaign launched in the fall of 2014 has shattered all campaign goals and raised a total of $56,623,840. This is $22 million more than the original campaign goal, and it is the largest campaign in University history.
In 2014, the Huntington University Board of Trustees approved a comprehensive campaign of $34 million.
"For those of us in the room when that was decided, that was a large goal and frankly, a pretty daunting one," said Tom Clounie, Advancement Committee chair. "And it had a ticking clock on it. We knew this campaign was intended to wrap up in 2022 as part of the University's 125th birthday year."
That $34 million figure included six capital projects and nine new academic program launches in addition to growing the endowment and scholarship funds. Prior to taking the campaign public, the campaign had already funded the 2015 renovations to Forest Glen Park, the 2016 construction of the new Welcome Center, and the 2017 completion of the Ware Plant Science Production Facility, but that was only the beginning.
"Seeing the faithfulness of God in this campaign and the success of the campaign to date, in the fall of 2019, on the recommendation of the Board of Trustees, the Step Forward Campaign goal was increased to $40 million," said Clounie.
Fast forward to today and the campaign results.
Since the fall of 2014, Huntington University has invested over the projected $7.9 million in capital projects, including
New occupational therapy labs ($75K)

Renovations at HU Arizona to create space for an entire OTD program location ($125K)

The reconfiguration of the Nursing Lab in Dowden Science Hall ($300K)

The Forest Glen renovations and new turf project ($1.3M)

The reimagination of the student center (known as the HUB) ($4.3M)

The construction of the Welcome Center as part of the Merillat Centre for the Arts ($800K)

The Ware Plant Science Production Facility addition to Dowden Science Hall ($500K)

The construction of the Don Strauss Animal Science Education Center ($1.2M)

The creation of the esports competition lab ($35K)

The updates to the sand volleyball court and construction of the pavilion ($50K)

The UB Launch renovation ($100K)
As a comprehensive campaign, Step Forward surpassed additional campaign goals. Below are some key examples.
$5.8 million has been added to the University endowment. That's over $1.8 million more than the goal. And the overall endowment during the campaign years (2014-2022) has increased by 50%.

$3.8 million has been invested in launching five new academic programs, including

The Doctoral Program in Occupational Therapy — one of the first in the country

The Bachelor of Science degree in occupational therapy assistant — the first in the country

The Bachelor of Science degree in engineering

The Master of Business Administration degree

12 degree programs in agriculture

Nearly $1.2 million has been invested in academic upgrades and improvements, including

Additional academic classroom resources ($250K)

Anatomage Tables ($300K)

Agriculture tractors/trucks/equipment ($400K)

Technology ($200K)

$4.3 million has been raised toward the Forester Fund, HU's student scholarship fund, which provides financial assistance for over 90% of the University's traditional undergraduate students; every single dollar raised for that Fund goes directly toward student scholarships

$4.8 million has been invested in personnel and employee compensation

Overall enrollment has increased by 12.7%

396 Foresters have graduated from HU thanks directly to Step Forward Campaign programs (see second bullet point above)
"The results of this campaign allow HU to move forward faster to accomplish the mission God has called us to do," said Dr. Sherilyn Emberton, president of Huntington University. "God's faithfulness to the University through challenging times and a global pandemic is beyond evident in this campaign, not only in the capital projects completed and the dollars raised, but more importantly in the lives impacted. Nearly 400 additional graduates earned HU degrees as a direct result of this campaign. That's a powerful statement to the steps of faith taken by so many since 2014."