HU OTD Student Research Accepted for Publication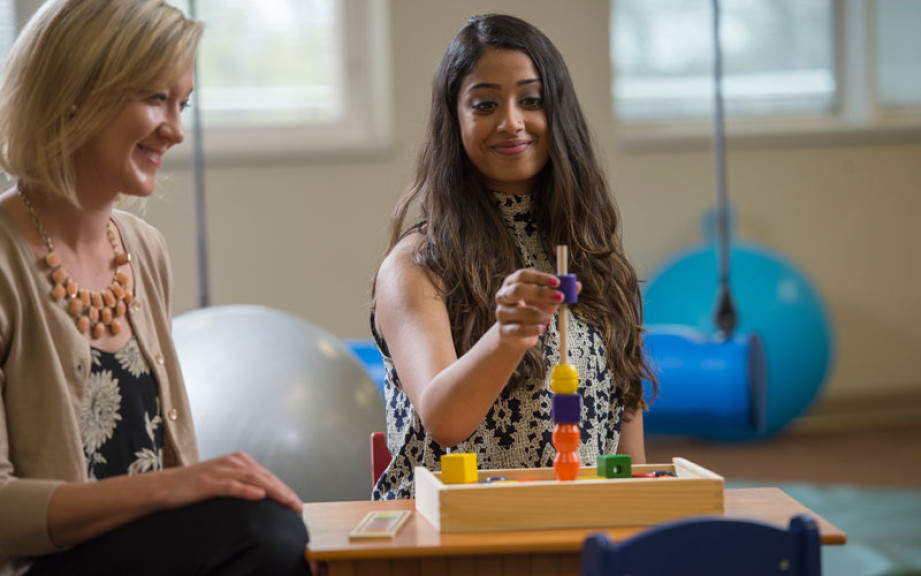 FOR RELEASE: Wednesday, May 4, 2016
Huntington University Doctor of Occupational Therapy (OTD) students' research into the use of app technology to improve fine motor deficits has been accepted for publication in the Practice Forum of The Journal of Hand Therapy.
The research was performed by OTD students Rachel Harmsen, Grace Kjellgren, Andrew Rivera, Victoria Warnaar, Holly Pinney and Chelsie O'Neill. They were pivotal in designing the methods of the study, data collection and analysis as well as writing the manuscript.
The Practice Forum highlights new evidence-based treatment techniques and features the work of occupational therapists, physicians and physical therapists from around the world. The article is currently published online and the print version will be featured in an upcoming quarterly.
Students examined the impact of the use of Dexteria, an app focused on improving fine motor coordination and dexterity, on the non-dominant hand of a sample of their classmates. After two weeks of consistent use of the app, a statistically significant improvement was found in fine motor coordination as measured by the Nine-Hole Peg Test. This research contributes to the growing body of research regarding the integration of technology into the rehabilitation process. Apps provide portable, repeatable and engaging methods for intervention that can be implemented beyond the clinical setting.
"This was a truly collaborative effort and I am blessed to have had such strong students on the research team as well as the support of the OTD faculty," said Dr. Nate Short, assistant professor of occupational therapy. "The findings add to the growing body of evidence to support the integration of technology into rehabilitation techniques. Publishing research with our students in The Journal of Hand Therapy is a professional milestone I will treasure."
The students will be presenting their findings at upcoming state and national conferences. The software developer for Dexteria also has been in communication regarding the use of the research to market the app for practitioners.
The OTD program started in fall semester 2014 with a cohort of 32 students from across the country as well as locally. Each year another cohort of 32 is started in August. The OTD program is eight semesters and is held on the Parkview Randallia campus in Fort Wayne, Indiana.
Check out the abstract of the students' research.