HU Receives Grant from Pioneer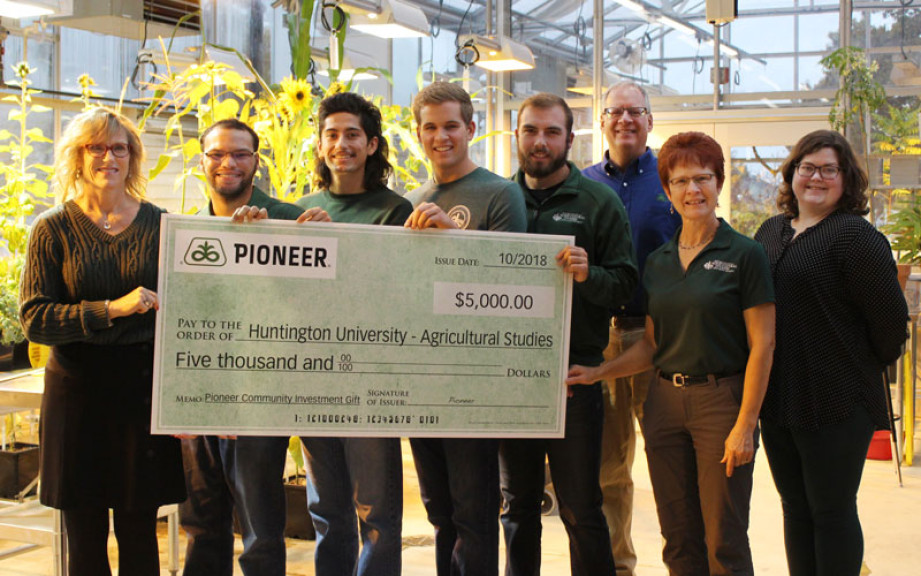 FOR RELEASE: Friday, November 2, 2018
Huntington University is grateful to be the recipient of a $5,000 grant from the DuPont Pioneer Giving Program. The grant was given for the Ware Plant Science Production Facility Equipment Project.
"Thanks to Pioneer's generous gift, Huntington University was able to purchase a needed soil sterilizer to minimize weed seeds, soil-borne pathogens, and pests while reusing our potting mixes for more sustainable greenhouse production. With the drying oven we purchased, we are able to dry down both greenhouse and field-collected soil and plant samples for analysis and preservation," said greenhouse and lab manager Natalie Porter. "Both pieces of equipment will be used by students in their coursework, special research projects, and Horticulture Club plant propagation efforts."
Dave Henderson, District Lead with Pioneer at Corteva Agriscience, visited the Ware Plant Science Production Facility on Thursday, November 1, to tour the space and to officially gift the check to Huntington University.
"Pioneer is thankful to be able to provide financial support to those making a positive impact for agriculture education," said Henderson. "The work and dedication of those at Huntington University is a great example of that effort. I am very impressed by the caliber of the individuals and their ag program and am thankful that we can play a small part in supporting their new greenhouse effort. Supporting passionate programs in agriculture education is something important to all of us within Pioneer. So is identifying future employees!"
DuPont Pioneer is an agriculture company that was founded in 1926 with a focus on supplying plant genetics to farmers. Headquartered in Iowa, DuPont Pioneer has customers in more than 90 countries. The DuPont Pioneer Giving Program focuses on organizations that put an emphasis on food security, education, and community betterment.
The grant proposal was submitted as a joint effort by the Huntington University Office of Advancement and the Haupert Institute for Agricultural Studies to benefit the students utilizing the Ware Plant Science Production Facility. The Ware Plant Science Production Facility Equipment Project was intended to provide the agriculture students at Huntington with more tools to expand their learning experience.