HU students and faculty present at 131st Annual Academy Meeting of the Indiana Academy of Science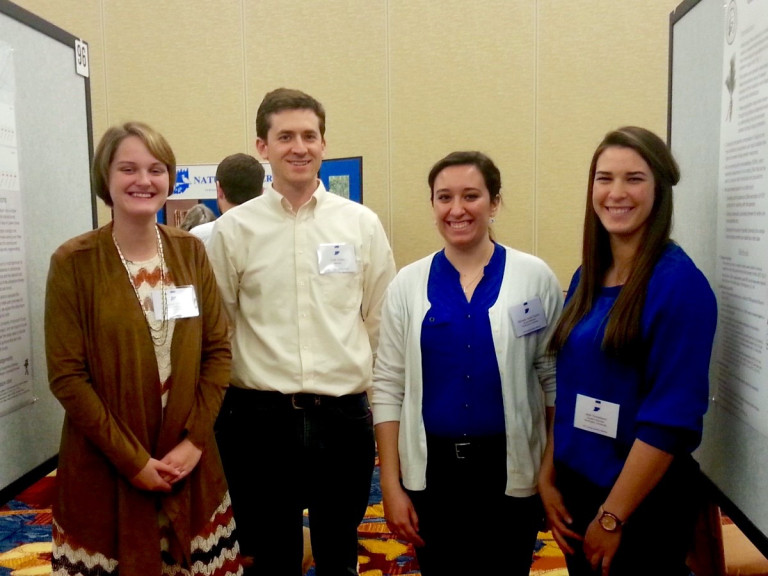 FOR RELEASE: Tuesday, April 5, 2016
Three Huntington University biology students and two faculty members took part in poster presentations during the 131st Annual Meeting of the Indiana Academy of Science. The event took place on March 26 in Indianapolis.
Meghan Wright, a freshman biology pre-med major from Fowlerville, Mich., presented on, "Biodiversity of the Huntington University arboretum compared to a local natural forest." Her research, conducted with Dr. Collin Hobbs, assistant professor of biology, involved identifying and mapping 355 trees in the historic HU arboretum, which was founded in the 1930s.
"I'm especially excited to present at the IAS conference, and it is a huge honor to be able to go as a freshman," Wright said. "I have put a lot of work into my HU arboretum forest demography project, and I am looking forward to getting to share my results. I am thankful that Dr. Hobbs allowed me to do this study and for the many others who made it possible."
Jean Donaldson, a junior biology major from Peru, Ind., and Michelle Hoover-Ferretti, a senior biology major from Roanoke, Ind., presented on, "Genetic diversity of a native white pine (Pinus strobus) stand in Indiana." Their research, also conducted with Hobbs, was funded through grants from the HU Emeriti Fellows Fund and the Ferne and Audry Research Endowment.
"It is going to be satisfying to finally share our work from last summer with others," Donaldson said. "I hope that the work we did will open doors for future HU students to have experiences doing research here because it was a great experience for me to be immersed hands-on in the world of biology that we normally just talk about and don't actually get to experience."
Dr. Ruth Nalliah, professor of chemistry, also presented at the conference on, "A research project for freshman chemistry lab: Degradation of pharmaceutical pollutants." The poster summarized initial results obtained by the Huntington University freshman chemistry lab students in their investigation of the degradation of pharmaceutical pollutants by non-chlorinated bleaching agents. The ultimate goal of the project is to find reagents which can be used by consumers to safely and economically degrade excreted pharmaceuticals prior to their release into the water supply. The work was funded by the Emeriti Fellows Research and Artistic Creation Fund of Huntington University, and assisted with the provision of a catalyst material from Hydrogen Link, Inc., a research company in Canada.

"The Huntington University students in the freshman chemistry class have enthusiastically responded to this research project, and with the help of an external industrial collaboration, we look forward to letting future students be included on the forefront of finding ways to reduce our pharmaceutical footprint in the environment," Nalliah said.
The Indiana Academy of Science is a professional membership organization of Indiana scientists. Founded in 1885, it is a non-profit organization dedicated to promoting scientific research and diffusing scientific information; to encouraging communication and cooperation among scientists and to improving education in the sciences. For more information, go to www.indianaacademyofscience.org/.