HU Students Set New Award Records at Fort Wayne Advertising Honors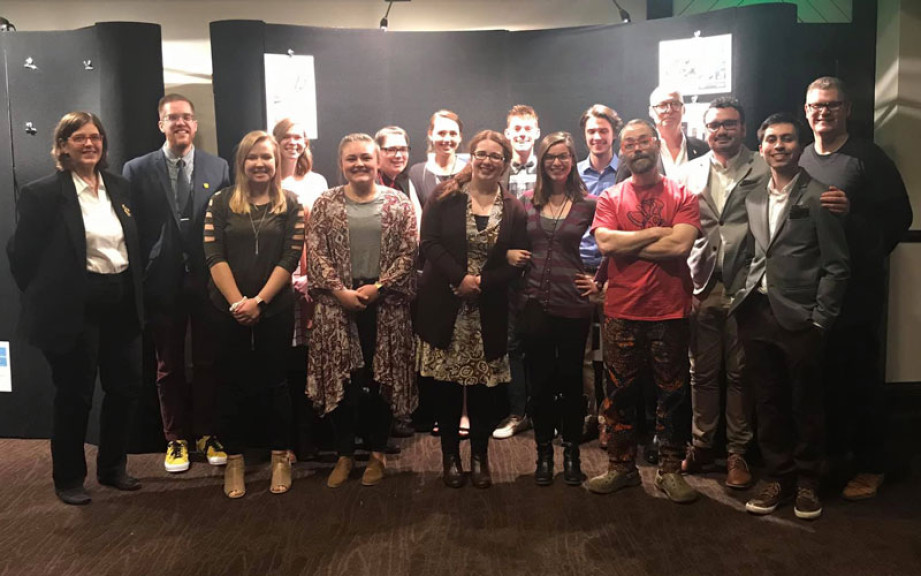 FOR RELEASE: Thursday, March 28, 2019
Huntington University digital media arts and graphic design faculty and students heard the results of the Fort Wayne area American Advertising Federation annual competition at the Fort Wayne Advertising Honors on February 23. In addition to an awards program, the evening featured a gallery of submissions. As in past years, Huntington University left the awards presentation at the end of the night with plenty of awards to their credit.
Twenty-one Huntington University students submitted entries for the 2019 competition, including nine graphic design students, 11 digital media arts students and one computer science student. The university faculty and students received 25 awards, including one Judges' Choice Award, three Gold Faculty Awards, 11 Gold Student Awards and 10 Silver Student Awards.
Participants in the competition included marketing and advertising professionals as well as students from other local universities, including the University of Saint Francis, Purdue University Fort Wayne and Ivy Tech Community College. A panel of judges from outside the Fort Wayne area judged each entry for outstanding design and content.
"I was so proud of our School of the Arts students and faculty, who took numerous gold and silver awards of excellence in graphic design, animation and broadcasting," said Dr. Lance Clark, associate dean of the arts and professor of digital media arts at Huntington University. "This further reinforces in my mind that HU leads regionally in these areas and that we are continuing to lead both academically and professionally."
This is not the first year Huntington University has performed well in the Fort Wayne AdFed competition, but it was a momentous one. In fact, graphic design students set new Huntington University records, including the first student to win an award three years in a row and the first student to win five awards in one AdFed competition. 2019 also marked the first year Huntington University graphic design alumni received awards post-graduation and the first ever Huntington University freshman award winner.
"Art + Design's graphic design program is proud to announce that, again, we have brought back Gold and Silver awards for AdFed Honors Awards 2019," said Rebecca Coffman, professor of art and Huntington University Art + Design department chair.
Tim Sprunger, a junior studying computer science, is the first Huntington University student outside of the traditional AdFed majors to win an award – he received two Gold awards in the Elements of Advertising Photography category.
Winners from Huntington University include:
· Judges' Choice: Non-Profit Advertising Campaign, "Come Sing With Us" Sarah Lehman (Collaborative project between HU, PFW, USF and Ivy Tech)
· Gold Award: Off Site Outdoor Board, "The Blue Birds" mural, Bryan Ballinger
· Gold Award: Elements of Advertising Illustration, "Mangy Squirrel Moonshine" logo, Bryan Ballinger
· Gold Award: Elements of Advertising Illustration, "Hootbru Beer Tap" logo, Bryan Ballinger
· Gold Award: Collateral Material Publication Design, "Christmas Eve in the Dunes" book cover, Isaac Hatch
· Gold Award: Collateral Material Publication Design, "Color Theory" book design, Josh Matos
· Gold Award: Collateral Material Print, "Shifts," Josh Matos
· Gold Award: Non-Traditional Advertising, "Poster," Christian Garver
· Gold Award: Non-Profit Advertising Campaign, "Come Sing With Us" Sarah Lehman (Collaborative project between HU, PFW, USF and Ivy Tech)
· Gold Award: Self-Promotion Collateral, "Memories" poster, Savannah Olson
· Gold Award: Self-Promotion Collateral, "Taylor Marcussen" poster, Taylor Marcussen
· Gold Award: Self-Promotion Collateral, "Candy Vale" poster, Jesse Dore
· Gold Award: Elements of Advertising Illustration, "Captain Butterfish" comic, Nate Walker
· Gold Award: Elements of Advertising Photography, "Architectural #2," Tim Sprunger
· Gold Award: Elements of Advertising Photography, "Architectural #3," Tim Sprunger
· Silver Award: Sales Promotion Packaging, "S'mores Candy Bar" packaging design, Katie Springer
· Silver Award: Sales Promotion Cross Media Campaign, "Acadia National Park" poster, Sarah Lehman
· Silver Award: Collateral Material Publication Design, "Lonzo the Lonely Dragon" book cover, Michaela Stinson
· Silver Award: Non-Traditional Advertising, "Becker 205 in 360" 360 Degree Illustration, Carley Shepherd
· Silver Award: Video Internet Commercial, "DeBrand Commercial," Benjamin Crane
· Silver Award: Self-Promotion Collateral, "Pig Tails" animated short, Caitlyn Chase
· Silver Award: Self-Promotion Print, "Self Promotion Package," Sarah Lehman
· Silver Award: Self-Promotion Video, "Threaded Secrets" animated short, Kourteney Biddle
· Silver Award: Self-Promotion Video, "Kourteney Biddle Demo Reel," Kourteney Biddle
· Silver Award: Elements of Advertising Logo & Icon Design, "Logo Mark," Sarah Lehman