HU Takes Home 15 - er, make that 16 - Awards!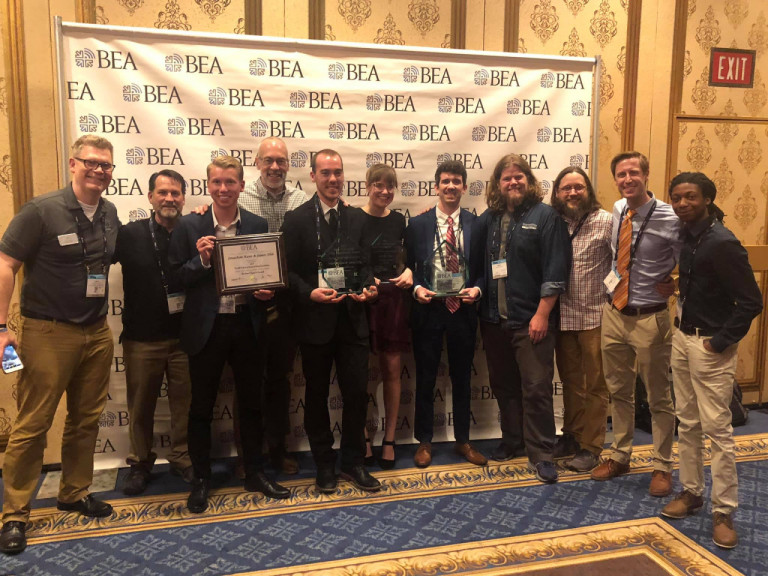 FOR RELEASE: Monday, April 15, 2019
The evening of April 8 was even better than expected for the Huntington University faculty and students from Indiana and Arizona who attended the Broadcast Educators Association Festival of Media Arts award presentation at the annual convention in Las Vegas.
"For those of you who teach or coach, you know how special it is when your students receive special recognition for their hard work," said Dr. Lance Clark, associate dean of the arts and professor of digital media arts, shortly after the event. "Last night was a very special night of recognition for our DMA film, animation and broadcast media students."
Huntington University digital media arts faculty and students were already aware that they would be claiming 15 awards throughout the evening, the second highest number of awards per school in this year's competition. Student projects "Motions," "Pig Tails," and "The Concourse" earned three of the 11 possible Best of Festival Awards for students.
In addition to the three Best of Festival awards, Huntington University students garnered two first-place awards, three second-place awards, one third-place award, and six Awards of Excellence. Adam Widener, assistant professor of digital media arts/broadcast media, received an Award of Excellence for his documentary film "The Promise."
What neither faculty nor students knew as the awards presentation began, however, was that they were soon to win a 16th award. "The Concourse," the work of recent HU alums Jonathon Kane and James Ehle, received the "Best of Best of Fest" award, taking home the top prize given to any student entry.
"We did not know that was coming, so it topped off an awesome evening," said Jeff Berggren, director of Arizona operations.
"'The Concourse' has become more than I ever hoped and dreamed it would be," said Kane. "Thank you to everyone who helped make this film possible!"
The Broadcast Educators Association Festival of Media Arts is a competitive festival open to BEA individual faculty and student members. Competition ranges from dramatic narratives to non-fiction documentary and news to the frontiers of interactive multimedia. This year's competition included over 1,500 student entries from over 300 universities around the world.
For the full list of BEA Festival of Media Arts awards, please go online.