HU Takes Home the Most Animation, Narrative Film Student Awards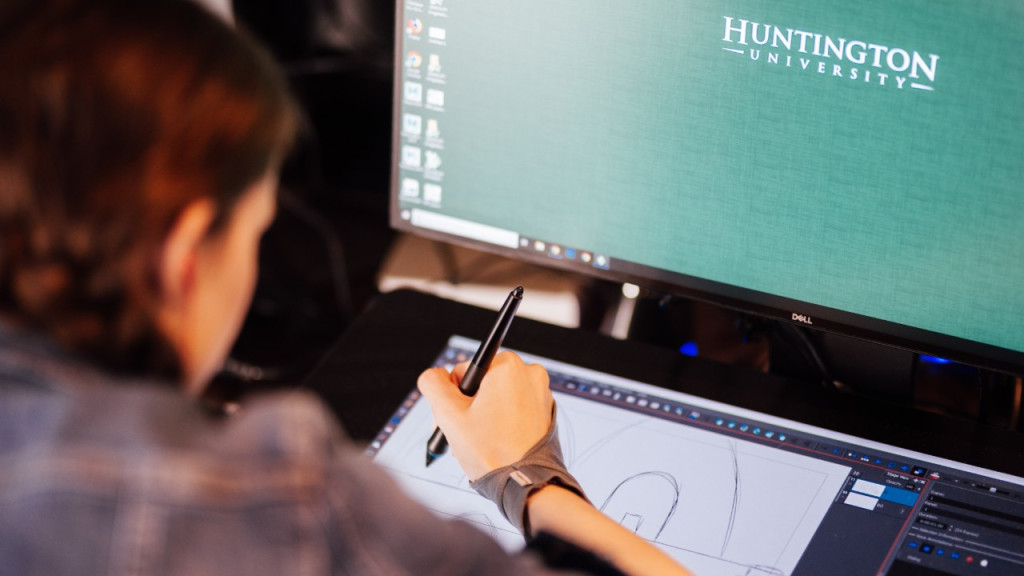 FOR RELEASE: Monday, March 6, 2023
Results from the 2023 Broadcast Education Association (BEA) Festival of Media Arts are in, and Huntington University once again made a strong showing. With a total of 19 faculty and student awards, HU took home more animation and narrative film awards than any other school in the nation. Additionally, HU had more faculty awards than any other school in the nation.
"The fact that we continue to place top of the nation with awards in animation, film, and TV production only further underscores the fact that we have one of the most outstanding programs in the nation," said Dr. Lance Clark, dean of the School of the Arts at Huntington University. "I couldn't be more proud of our students and faculty."
Huntington University's award-winning Department of Digital Media Arts (DMA) opened its doors in 2005 under Clark's direction. Clark graduated from HU in 1989 before returning as a professor in broadcasting four years later. The department's inaugural year drew 10 eager students. "Then it doubled and doubled and doubled," said Clark. Today DMA is one of the University's largest departments, boasting 122 students during the 2021-2022 school year and appealing to artists across the nation and around the world.
Growth for digital media arts at HU has included more than home campus students in Indiana. In 2016, HU opened the Huntington University Arizona Center for Digital Media Arts. Since its inception, that center has grown each year and has produced incredible talent in the Peoria, Arizona, region and beyond.
The list of undergraduate winners includes the following:
Student Film & Video Competition
Animation/Experimental/Mixed Category
2nd Place: The White Rosebush; Laurel Zeiler, Huntington University
Awards of Excellence:
Heart Broke; Shanon Mcneil, Huntington University
Motel 7; Cameron Elliott, Huntington University
Chester & Lucille; Malia Dahlquist, Huntington University
Music Video Category
2nd Place: Goodby Forever; Shay Reyes & Elliot Martin, Huntington University
Narrative Category
2nd Place: Clown West; Corey Dunivan & Jonathan Willson, Huntington University
Awards of Excellence:
Pizza Pizza; Catherine Croteau, Huntington University
Thank You Five; Jaycee Walden & Callie McKeown, Huntington University
Blagodarnyy; Alex Kennedy, Huntington University
Milo; Micah McFadden & McKenna Parks, Huntington University
Spots Category
3rd Place: Storytime at the Zoo; Seth Lecheler, Taylor Stickan & Kathryn Wray, Huntington University
Live-to-Tape Multi-Camera Studio or Remote Production
Rescue Concert: A Night with Sanctus Real; Dylan Herring & Sam Delagrange, Huntington University
Student Scriptwriting Competition
Short Narrative Film Category
Milo; Micah McFadden & Jonathan Willson, Huntington University
Narrative Feature Category
Award of Excellence:
Night Owls; Onalivia Smith, Huntington University
Student Sports Competition
Audio/Video Sports Event: Play by Play Talent
Huntington University vs. Georgetown College Men's Basketball; Ryan Walker, Huntington University
The Broadcast Education Association is the premier international academic media organization, driving insights, excellence in media production, and career advancement for educators, students and professionals. Over 2,500 professors, students and media professionals are currently individual members, and approximately 275 college and university departments and schools are institutional members. Each year, there are over 1,300 submissions from schools around the world, with only around 22% of entries receiving awards. 
Huntington University is a comprehensive Christian college of the liberal arts offering award-winning graduate and undergraduate programs in more than 70 academic concentrations. Founded in Huntington, Indiana, in 1897 by the Church of the United Brethren in Christ, Huntington University has over a century of experience educating graduates who are ready to impact the world for Christ through scholarship and service. The nonprofit university operates at three academic locations, including the original home campus in Huntington, a doctoral program in occupational therapy location in Fort Wayne, Indiana, and an undergraduate and doctoral program location in Peoria, Arizona. Online programs are also available. Huntington University's home campus offers 17 men's and women's athletic programs, and the university is a member of the Council for Christian Colleges and Universities (CCCU).