HU Teams Up with the Komets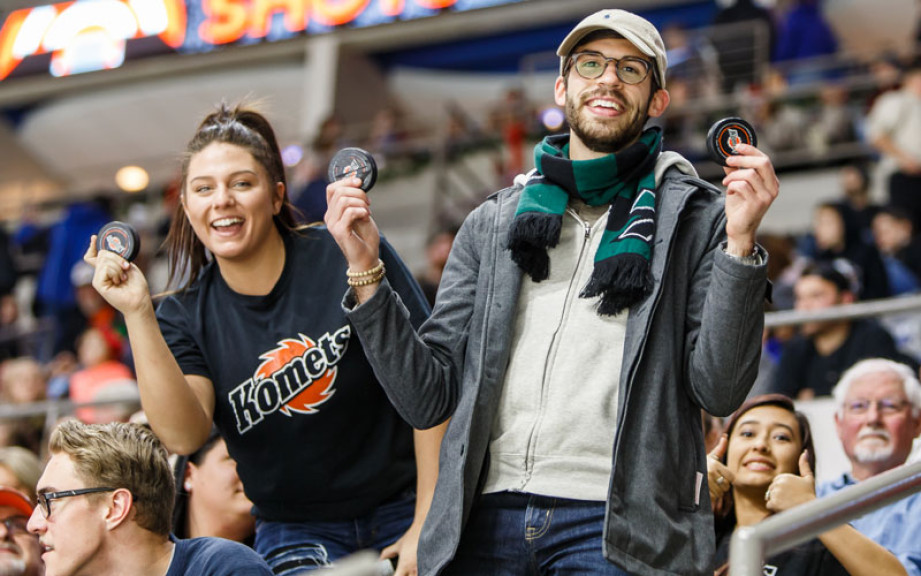 FOR RELEASE: Tuesday, October 1, 2019
Huntington University and the Fort Wayne Komets have forged a corporate partnership that will benefit both Foresters who enjoy attending Komets games and Komets personnel who are pursuing higher education.
"We are thrilled to partner with Huntington University to promote the exceptional academic and growth opportunities available to undergraduate, graduate, and adult degree students so close to home," said Scott Sproat, executive vice president, CRO, CMO and co-owner of the Fort Wayne Komets. "The Komets are committed to enhancing life in Fort Wayne and the surrounding areas, and Huntington University plays a vital role in the development of students from both near and far who become crucial to the propagation of excellence that our area enjoys."
Through this partnership, Huntington University ID holders – including faculty, staff and students – will qualify for discounted Komets tickets to any game. Huntington University will also host charity nights at specific Komets games.
Komets employees and their families, including players, will now qualify for discounted tuition rates at the University. Huntington University has also become a key sponsor of the Komets' podcast.
"This is a true symbiotic relationship for both the University and the Komets," said Nathan Hawkins, director of graduate and adult admissions. "We are working cooperatively with the Komets to provide a benefit to both sides. As a University, we look forward to the opportunity to help Komets players, their spouses, and other Komets personnel pursue the next step in their education. This is truly a partnership."
"With a recent HU graduate in my immediate family, I can promise you that Huntington University represents the very best in the promotion of a winning culture and a nurturing environment," said Sproat, whose son was a 2019 Huntington University graduate. "We hope to help them tell their story and get as many of our fans and followers to integrate with their programs as possible. The future is bright at Huntington University, and we're proud and thankful that they've chosen us to help push their mission forward."