HU To SonRise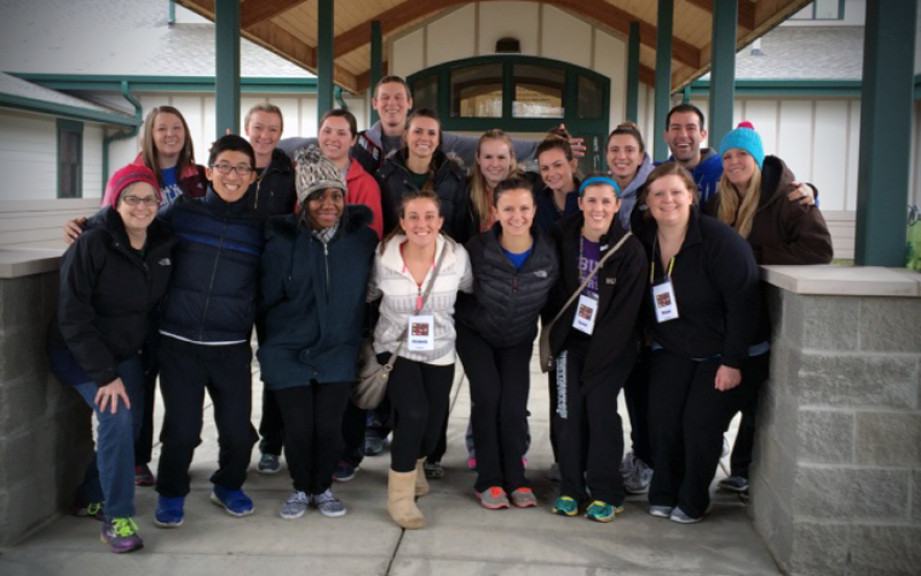 FOR RELEASE: Monday, January 26, 2015
Twenty-two doctorate of occupational therapy (OTD) students became "Friends" of individuals with developmental disabilities at SonRise, a Christian retreat in Anderson, IN this past weekend. OTD students and their assigned Friend assumed responsibilities to engage in Christian worship services, self-care, activities, and homemaking tasks as part of their J-term experience, Global Outreach and Missions.
The focus of the class and outing was to "gain greater awareness of religious, sociocultural, and socioeconomic issues as it relates to individuals with disabilities" according to faculty member, Dr. Ruth Ford. Students and their Friends shared valuable learning lessons together. The Friends taught the students how disabilities impacts participation and engagement in occupations such as daily life skills. The weekend focused on the scripture from Galatians 5: 22-25 with an emphasis on joy. Students and Friends both learned how God wants us to find joy as we overcome struggles in our lives.
But the fruit of the Spirit is love, joy, peace, forbearance, kindness, goodness, faithfulness, 23 gentleness and self-control. Against such things there is no law. 24 Those who belong to Christ Jesus have crucified the flesh with its passions and desires. 25 Since we live by the Spirit, let us keep in step with the Spirit. - Galatians 5:22-25 (NIV)
SonRise provides camps and retreats for children and adults with developmental delays across the country with volunteers who share the joy of caring and worshipping with others. SonRise provides respite services for caregivers. For more information pertaining to the camp, contact SonRise at (765) 642-9902.