Huntington Doctoral Grad Named First to Fellowship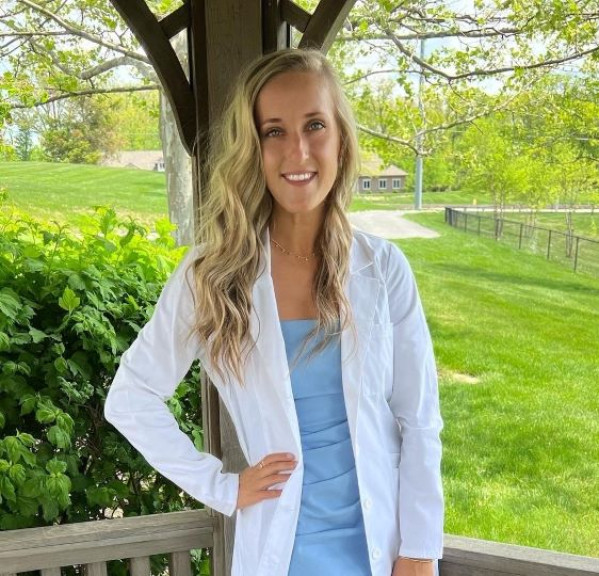 FOR RELEASE: Thursday, August 18, 2022
Huntington University graduate Nicole K. Thompson, OTD, Class of 2022, has been named to Parkview's AOTA Neurologic Occupational Therapy Fellowship. This is the first time Parkview has offered this fellowship.
"Working with the neuro population has always been a passion of mine," said Thompson. "This opportunity will not only allow me to jump right in and start working with patients as an occupational therapist but [will] also provide that additional specialized training to support me in better serving this population. I am truly honored to serve in this new role and to be named Parkview's first neuro fellow in their new AOTA Neurologic Occupational Therapy Fellowship."
Thompson credits Huntington University's Doctoral Program in Occupational Therapy (OTD program) with preparing her for this important fellowship, stating that the "HU OTD program gave me a lot of the tools to not only be selected for this position but to be able to tackle whatever challenges this new opportunity may bring. The advanced knowledge and experiences I gained through my didactic work, fieldwork and capstone project are what make me best supported for the position of Parkview's new neuro fellow."
The fellowship lasts for 13 months, ending in the fall of 2023. Thompson will gain expertise in neurologic OT as she rotates through acute care, inpatient and outpatient areas at Parkview. Additionally, the fellowship will provide opportunities for Thompson to share her knowledge with colleagues and present locally and nationally as well as in schools and other facilities.
Huntington University is a comprehensive Christian college of the liberal arts offering graduate and undergraduate programs in more than 70 academic concentrations. U.S. News & World Report ranks Huntington among the best colleges in the Midwest, and Forbes.com has listed the university as one of America's Best Colleges. Founded in 1897 by the Church of the United Brethren in Christ, Huntington University is located on a contemporary lakeside campus in northeast Indiana. The nonprofit university is a member of the Council for Christian Colleges and Universities (CCCU).