Huntington University Welcomes Corteva Agriscience to 1897 Society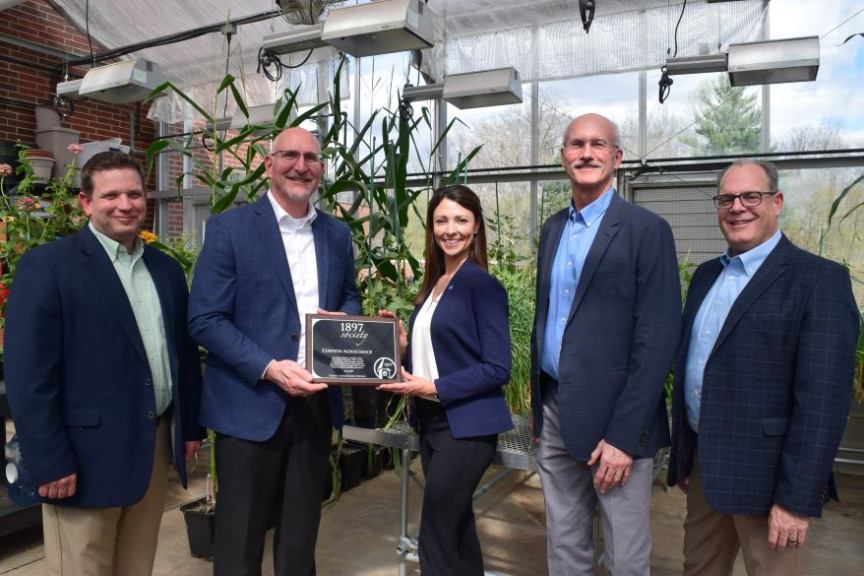 FOR RELEASE: Tuesday, May 17, 2022
It's with gratitude that Huntington University welcomes Corteva Agriscience into the 1897 Society. The 1897 Society is one of the University's most elite giving societies, honoring individuals and organizations who have gifted $100,000-$249,999 to Huntington University. Since 2018, Huntington University and Corteva have had a strong relationship that has ultimately benefited HU's students and the ag community in Northeast Indiana. Additionally, Corteva Agriscience has recently gifted the University with $10,000 additional dollars for the Haupert Institute for Agricultural Studies.
"By investing in agricultural education, we are investing in the future of the industry and the people that will sustain it for years to come," said Alejandra Chavez, Corteva Agriscience commercial unit leader, U.S. multi-channel seed. "Ag education is the future of our industry. These students will be the ones to work on, and hopefully solve, the global challenges we face today, including sustainability feeding the growing world."
From providing funds for lab equipment to donating seed to creating an endowed scholarship to sponsoring an ongoing lecture series, Corteva Agriscience has been making a positive impact on Forester students interested in agriculture and biology, and their continued investment in the University will mean continued impact on our students.
"The support of Corteva Agriscience helps us do what we do and do it well," said Nate Perry, managing director of the Haupert Institute for Agricultural Studies. "Our students see the impact of Corteva in nearly everything they do in our ag and biology courses, and that impact goes a long way in preparing HU students for success after college."
"We are fortunate to have such a robust ag program here in Northeast Indiana. Companies like Corteva really benefit from partnering with Huntington University and getting the opportunity to work with their staff and students," said Doug Rice, Corteva Agriscience account manager, traits licensing and distribution, and Huntington University Ag Council Member.
Launched in the fall of 2014, Huntington University's Haupert Institute for Agricultural Studies promotes a Christian perspective on agriculture, which recognizes a responsibility to be good stewards of God's creation and to examine questions of sustainability and justice. The Institute welcomed its first 16 students in the fall of 2015. By fall 2021, the program had grown to 54 students.
Corteva Agrisicence is a publicly traded, global pure-play agriculture company that combines industry-leading innovation, high-touch customer engagement and operational execution to profitably deliver solutions for the world's most pressing agriculture challenges. Corteva generates advantaged market preference through its unique distribution strategy, together with its balanced and globally diverse mix of seed, crop protection, and digital products and services. With some of the most recognized brands in agriculture and a technology pipeline well positioned to drive growth, the company is committed to maximizing productivity for farmers, while working with stakeholders throughout the food system as it fulfills its promise to enrich the lives of those who produce and those who consume, ensuring progress for generations to come. More information can be found at www.corteva.com.