HU's Bod Pod featured in Fort Wayne Business Weekly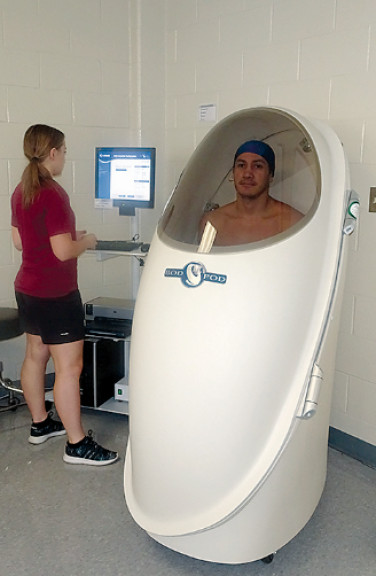 FOR RELEASE: Tuesday, April 12, 2016
Huntington University's Department of Kinesiology and Sport Leadership was featured in a recent edition of Fort Wayne Business Weekly. Journalist Lucretia Cardenas explored the department's Bod Pod, which offers the most advanced means possible for measuring body composition.
The system helps students in the exercise science program accurately measure body composition (fat and fat-free mass) in adults and children. Anyone from the community can use the Bod Pod to help provide insight into their health and help determine if they are carrying a health amount of fat on their body.
"The Bod Pod is considered the gold standard in terms of accuracy," said Todd Fiedler, visiting instructor of exercise science. "For most people, the Bod Pod is a starting point. It's a way to track progress or determine where you are. The numbers are not sufficient alone."
The equipment enables students to measure a person's resting metabolic rate and total energy expenditure during each body composition test without the person going through any physical tests. A session in the Bod Pod with analysis afterwards takes about 10 minutes to complete. It costs $20 and the body percent accuracy is plus or minus 1-2.7 percent.
Huntington University houses the only unit in the region, according to the Bod Pod's manufacturer, Cosmed. The kinesiology and sport leadership department has created partnerships with community organizations to use the equipment, including the Parkview Huntington Family YMCA, Parkview Health and several area gyms.
The Bod Pod is housed in the Merillat Complex in the exercise science labs. To schedule an appointment, contact Todd Fiedler at (260) 359-4148 or tfiedler@huntington.edu.
For more information about the kinesiology and sport leadership department, go to www.huntington.edu/kinesiology-and-sport-leadership.
Photo courtesy of Greater Fort Wayne Business Weekly and Lucretia Cardenas.