HUTC Receives Certificates of Merit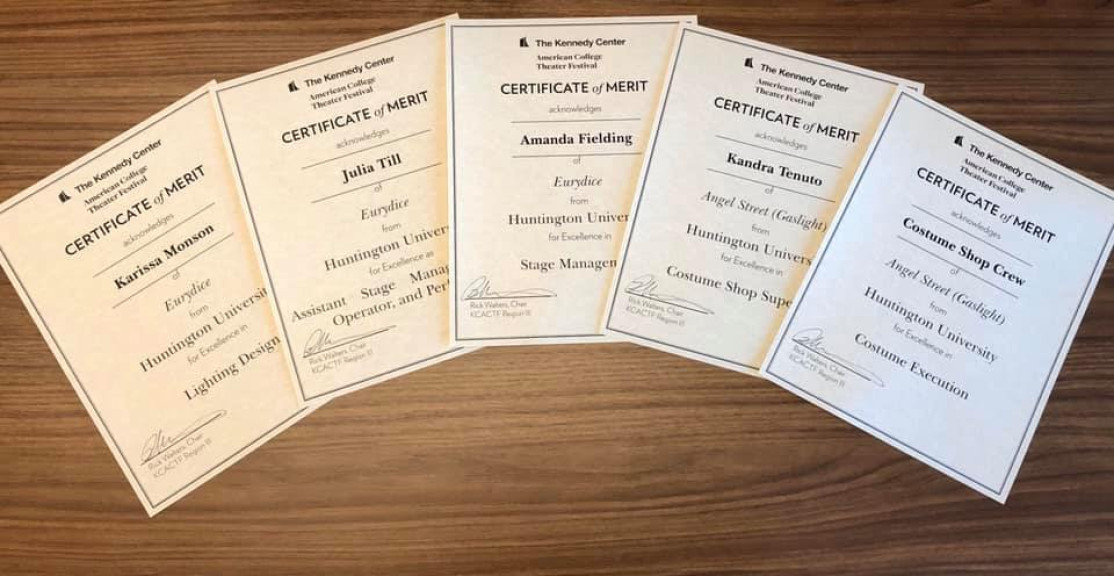 FOR RELEASE: Wednesday, February 5, 2020
HUNTINGTON, Ind. — Huntington University is pleased to announce that the Huntington University Theatre Company has received five Certificates of Merit from the Kennedy Center American College Theatre Festival for excellence in Design and Technology.
"This type of recognition comes from our peers at the collegiate level, so it means a lot," said Ryan Long, Assistant Professor of Theatre. "It means that out of other collegiate theatre programs and productions, we are doing things that make us stand out among the crowd and showcase the excellence of our program. It also showcases the high caliber work that our students and staff are doing."
The number of Certificates of Merit awarded are determined by a respondent who views and provides feedback for the show. A Certificate of Merit is not guaranteed to any show. By presenting a Certificate of Merit, the respondent is acknowledging that he or she sees a designer, crew member, or technician who is going above and beyond what the show requires and who stands out among peer institutions.
Respondents who see productions from Huntington University are also responding to productions from Ball State University, Purdue University Fort Wayne, Taylor University, Bethel University, Goshen College, Indiana Wesleyan University and several other institutions with large theatre programs.
"The work that the HUTC does is outstanding," said Long. "We have exceptional students and staff working on these productions. Awards like these demonstrate that excellence to those outside our University."
Huntington University is a comprehensive Christian college of the liberal arts offering graduate and undergraduate programs in more than 70 academic concentrations. U.S. News & World Report ranks Huntington among the best colleges in the Midwest, and Forbes.com has listed the university as one of America's Best Colleges. Additionally, Princeton Review has named the institution a "Best Midwestern College." Founded in 1897 by the Church of the United Brethren in Christ, Huntington University is located on a contemporary, lakeside campus in northeast Indiana. The non-profit university is a member of the Council for Christian Colleges and Universities (CCCU).