"Meet Me in St. Louis" Opens in Huntington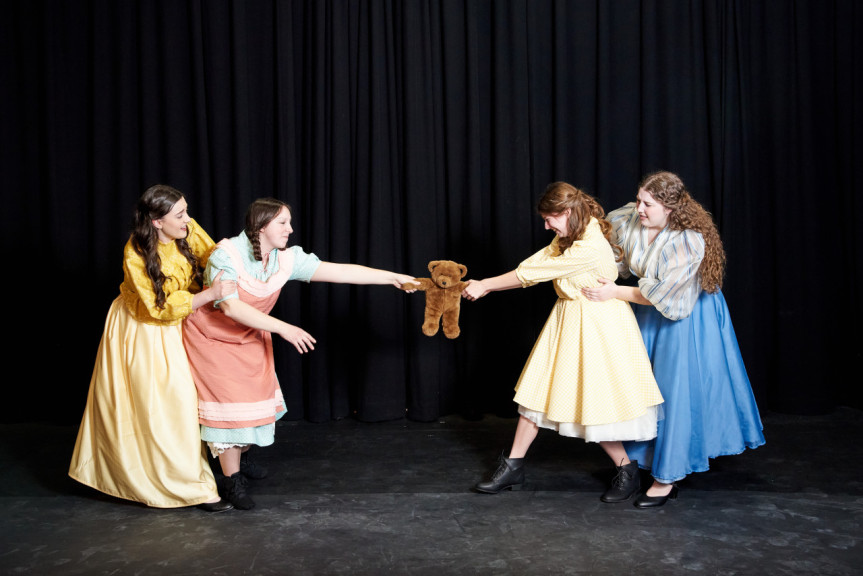 FOR RELEASE: Monday, March 27, 2023
The Huntington University Theatre Company and Department of Music are proud to present Meet Me in St. Louis. Set in the summer of 1903, Meet Me in St. Louis follows a year in the life of the Smith family. The musical includes seven of the best-loved songs from the film, plus ten additional Martin and Blane songs written specially for the stage. Memorable musical numbers include "Have Yourself a Merry Little Christmas," "The Boy Next Door," "The Trolley Song" and "Whenever I'm with You." Based on the heartwarming MGM film, Meet Me in St. Louis is a rare treasure in musical theatre: a wholesome and enchanting portrait of a turn-of-the-century American family.
But as Ryan Long, Department of Theatre Arts chair, assistant professor of theatre and director of Meet Me in St. Louis pointed out, though this show is full of music and humor and fun, it's the family's mutual respect, tempered with good-natured humor, that helps them through romance, opportunity and heartbreaks and entertains the audience.
"One of the main themes of the production is that it isn't necessarily the physical things that are the most meaningful in life," said Long. "It's the relationships."
Long went on to point out that "stories are immensely powerful things," citing Matthew 13:34 (CEB), which says, "Jesus said all these things to the crowds in parables, and he spoke to them only in parables."
"Stories have a way of revealing things to us that we might not otherwise see or might not be willing to see," said Long.
The cast for the show includes the following:
Mr. Smith – John Ulery 
Mrs. Smith – Sarah Smith 
Lon Smith – Carson Cunningham 
Rose Smith – Emily Kars 
Esther Smith – Renee Preston 
Agnes Smith – Karissa Merillat 
Tootie Smith – Ava Curtis 
Grandpa Prophater – Nate Benjamin 
Katie – ReBecca Zorn 
John Truitt – Brody Bowman 
Warren Sheffield – Ross Bell 
Lucille Ballard, Ensemble – Lillia Kilzer 
Eve, Ensemble – Sophie Henderson 
Postman, Sidney Purvis, Ensemble – Jacob Covey 
Clinton Badger, Ensemble – Izzy Sprunger 
Ensemble – Rylie Raber 
Ensemble – Emily Saxon 
Ensemble – Rebekah Steffen 
And the crew for the show includes the following:
Producer/Director – Ryan Long
Music Director – Melanie Carter
Choreographer – Molly Hill
Choreographer – ReBecca Zorn
Scenic Designer – Derrick Null
Lighting Designer – Andrew Gutshall
Costume Designer – Kandra Tenuto
Sound Designer – Andrew Edmonds
Props Designer/TD – Sam Tenuto
Stage Manager – Lexie Caudell
Assistant Stage Manager – Anna Cassidy
Assistant Stage Manager – Angel English
Assistant Stage Manager – Elizabeth Sonntag
Props Assistant – Lydia Welch
Sound Mixer/Sound Board Op – Lex Wright
Master Electrician – Elias Collier
Flyrail Operator – Elizabeth Kruse
The show opens in Zurcher Auditorium in the Merillat Centre for the Arts on March 30 and runs through April 1. To get your tickets, visit huntington.edu/MeetMe.