Inaugural Spirit of a Forester Award Bestowed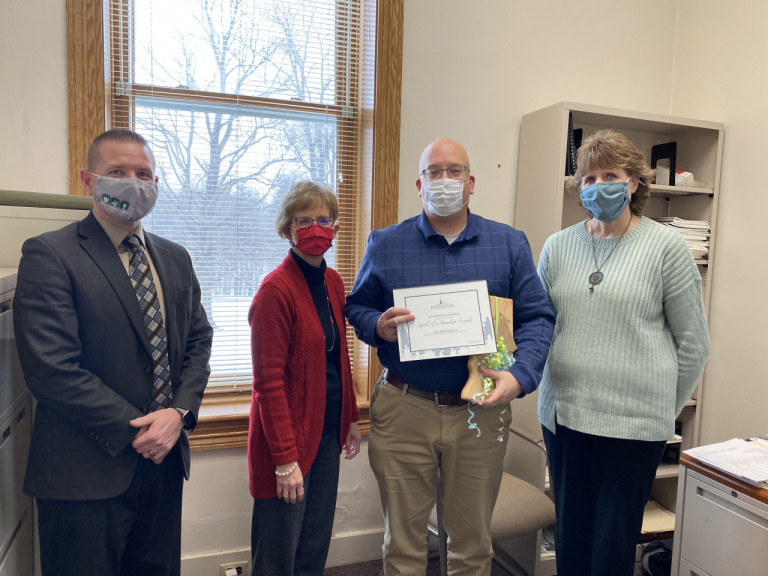 FOR RELEASE: Wednesday, February 24, 2021
HUNTINGTON, Ind. — Huntington University is pleased to announce that Joe Pretorius, controller at HU, has received the inaugural Spirit of a Forester award. This peer-nominated award is bestowed monthly upon a Huntington University employee who demonstrates the characteristics of a Forester.
What is a Forester? The simple answer is that a Forester is a Huntington University student. Any student at any location and any age. But the truer answer is that a Forester is a lifetime appointment of chasing truth, defying complacency, remaining curious, caring completely, embracing interconnectedness, and demonstrating grit and creativity. Together, these traits come together to point others toward Christ. We take great pride in being Foresters, but we realize that we are fallible. That doesn't negate our efforts. Instead, our fallibility highlights our reliance on Christ, the importance of our relationship with Him, and our potential for growth.
In their nominations, Joe's fellow HU employees said that "Joe's care for Huntington University and commitment to fulfilling the mission of Christ, scholarship and service is clear. He humbly and quietly takes care of his responsibilities in a first-class manner," and "Joe has worked countless hours since he started here in 2019, learning his job, finding ways to simplify and perfect other areas in the Office of Business and Finance, working diligently on the PPE loan — learning how to be a "Forester" and still taking the hours required to complete courses for his doctoral degree. Even though he's just been here not quite two years, Joe has stepped up to the plate and has filled his role above and beyond what could have been expected, especially during this pandemic."
Huntington University is a comprehensive Christian college of the liberal arts offering graduate and undergraduate programs in more than 70 academic concentrations. U.S. News & World Report ranks Huntington among the best colleges in the Midwest, and Forbes.com has listed the university as one of America's Best Colleges. Founded in 1897 by the Church of the United Brethren in Christ, Huntington University is located on a contemporary lakeside campus in northeast Indiana. The nonprofit university is a member of the Council for Christian Colleges and Universities (CCCU).