HU Officer Named to Fort Wayne's 40 Under 40!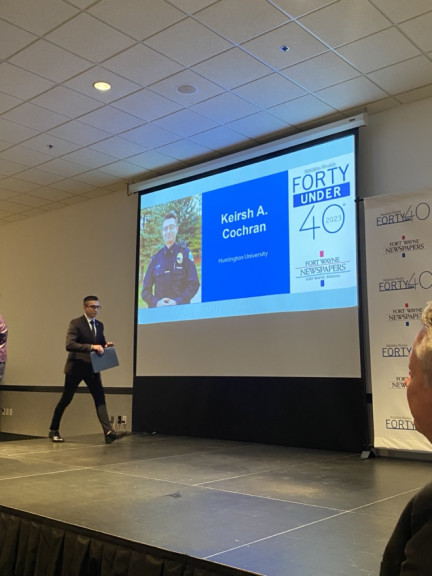 FOR RELEASE: Tuesday, March 28, 2023
Huntington University congratulates Keirsh Cochran on being named to Greater Fort Wayne Business Weekly's 40 Under 40 Class of 2023! 
"It's an amazing honor to be selected as a 40 Under 40 recipient," said Cochran, assistant professor of criminal justice and chief of campus police and security. "To be able to represent Huntington University among Northeast Indiana's leading professionals was a privilege I will not soon forget. However, this is a team win. The student life team and the officers of HUPD make my job easy and rewarding."
As the chief of campus police and security at Huntington University, Cochran is responsible for the safety of those on campus, working with administration to solve safety-related issues and overseeing the officers who work for the Huntington University Police Department (HUPD). He is also responsible for building positive relationships between the HUPD and the campus community.
Cochran is an HU alumnus with a bachelor's degree in broadcast media; he also holds a Master of Public Administration degree. Before returning to his alma mater, he worked for the Fort Wayne TinCaps and NBC33 and spent four years as a patrolman for the Fort Wayne Police Department on the south side of Fort Wayne. The Fort Wayne Police Department awarded him a meritorious service citation in 2017, and Huntington University awarded him the 2019 Young Alumnus Award.
Originally from Franklin, Indiana, Cochran is a third-generation police officer, with his father currently serving as a police chief in Franklin.
"As a police officer and Chief, I have devoted my life to public service. That means more than just being on duty and in uniform," said Cochran. "To me, public service means always being a positive influence and example to help make HU, the City of Huntington, and Northeast Indiana a better and safer place to live, work, study and raise a family."
Cochran's involvement in the community includes Jennifer's Harbor Domestic Violence Prevention, the Knights of Columbus Council 1014, the International Association of Chiefs of Police, the Academy of Criminal Justice Sciences, the International Association of Campus Law Enforcement Administrators, and the Republican State Convention.