James Wins Johnston Memorial Award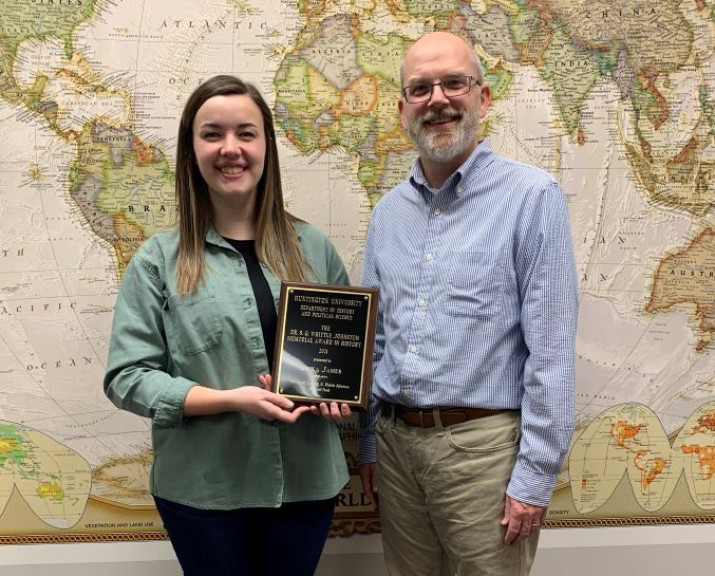 FOR RELEASE: Wednesday, April 20, 2022
The Department of History and Political Science at Huntington University is pleased to announce that Erika James is the winner of the 2021 S.G. Whittle Johnston Memorial Award. James is from Markle, Indiana, and is majoring in political science while minoring in mathematics and legal studies. She intends to graduate in May 2022 and continue her education in law school.
Erika's award-winning research paper was chosen by a competitive process, and her project, "The Shadow Docket: Leaving Americans and Courts Under a Veil of Ignorance," detailed the debate over the U.S. Supreme Court's non-merits docket. These are cases that are decided without the benefit of briefs, oral arguments, or friend-of-the-court filings. Her work was completed under the direction of Dr. Jeffrey B. Webb in his advanced seminar in contemporary American politics.
The Johnston Memorial Award is given annually to the author of a research paper written in the Department of History and Political Science. Nominations for the award demonstrate the highest level of intellectual engagement and adherence to the standards of professional scholarship.
"Erika's research documented the importance of judicial candor. She showed through her research that transparency in our highest court's proceedings is a vital component of the democratic system of government," said Webb.
The S.G. Whittle Johnston Memorial Award honors the memory of S.G. Whittle Johnston, professor at University of Virginia, and carries a cash award of $1,000 dollars. It is funded by the S.G. Whittle Johnston Memorial Award Fund, which was established by an HU alumnus and former faculty member to encourage students to strive for excellence in research in the fields of history and political science.