OTD students, faculty present at Indiana Occupational Therapy Association conference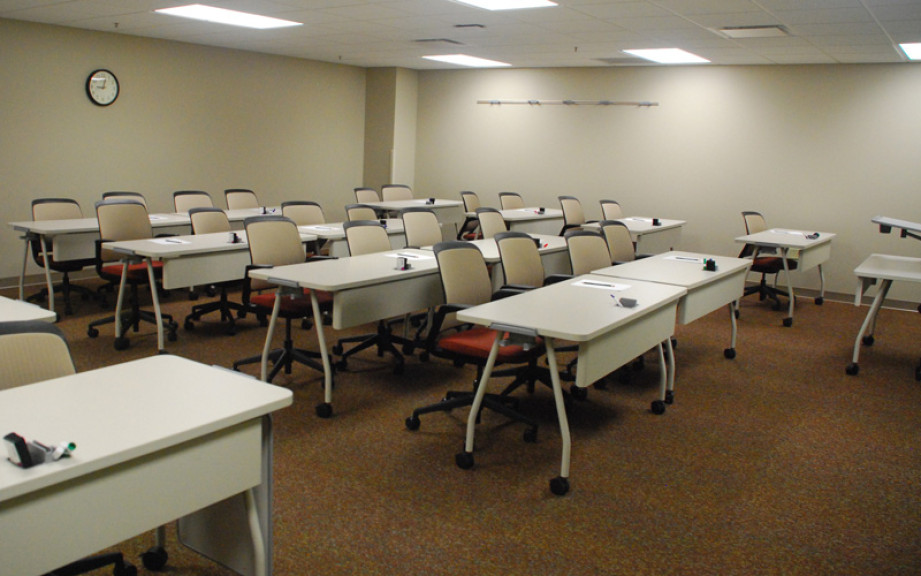 FOR RELEASE: Thursday, October 1, 2015
Huntington University Doctor of Occupational Therapy students and faculty traveled to the Indiana Occupational Therapy Association annual conference on Sept. 19 where nine students, which is nearly a third of the OTD cohort, and one faculty member presented formally on topics related to occupational therapy.
Huntington University attendees made up nearly 10 percent of the total conference attendance. The conference also was attended by the American Occupational Therapy Association President, Dr. Ginny Stoffel, PhD, BCMH, FAOTA, and OTD students had the privilege of hearing her keynote presentation on current issues related to the practice of occupational therapy.
An oral presentation entitled "Providing the Gift of Mobility: OTD Faculty and Student Service in Haiti" was led by Dr. Nathan Short, Huntington University Assistant Professor of Occupational Therapy, and five OTD students who traveled to Haiti this past January with Wheels for the World to serve through free seating and mobility clinics.
"Our students represented the Huntington University OTD Program with distinction and demonstrated a high level of professionalism and depth of comprehension of their respective content," Short said. "Their scholarly efforts left a lasting impression on conference attendees including local practitioners, academics and AOTA President Dr. Ginny Stoffel. This event was a fitting culmination of our student's first year experience and an opportunity to exhibit the Lord's blessing on our program thus far."
The OTD students presented various aspects of the trip pertaining to occupational therapy. Risa Umeno discussed barriers to occupation, Jessica Gruden presented on interventions to improve occupational performance and Jimmy LaRowe highlighted outcomes for the population they served. Sophia Garbutt and Kelsey Shweinsberg brought the presentation to its conclusion by providing information on how local therapists can serve and led a question and answer session. The presentation was well received with a positive response from those in attendance.
Chris Garau, Greg Mollica and Steven Vrchota led a poster presentation on student research related to the Haiti and local January-term service projects within the OTD program. T'Neill Treherne presented another poster on evidence-based practice related to cognitive behavioral therapy for young adults with schizophrenia. Students also had the opportunity to attend sessions on legislative issues, 3-D printing, zero balancing and other unique interventions specific to occupational therapy.
"The OTD students from Huntington are already sharing scholarly research and global mission outreach activities through peer reviewed networks," said Dr. Ruth Ford, Huntington University OTD Program Director. "The state conference created a great platform to show the impact that these students and the OTD faculty are having in our community and in the OT profession."
Overall, the student's efforts served to establish respect for Huntington University's program at the state level, network with a variety of therapists and other academics, and more importantly, represent the values of HU at a professional level.
Huntington University's doctoral program in occupational therapy promotes students' development in faith, health, leadership skills, advanced practice, research and professional service. Students complete clinical experiences in Indiana, across the country and internationally. The program was granted precandidacy status by the American Occupational Therapy Association in August 2015 and launched in August 2014 with the first full class of 32 students and welcomed an additional class of 32 in fall 2015.