OTD students organize "Telehealth Lobby Day" in Indy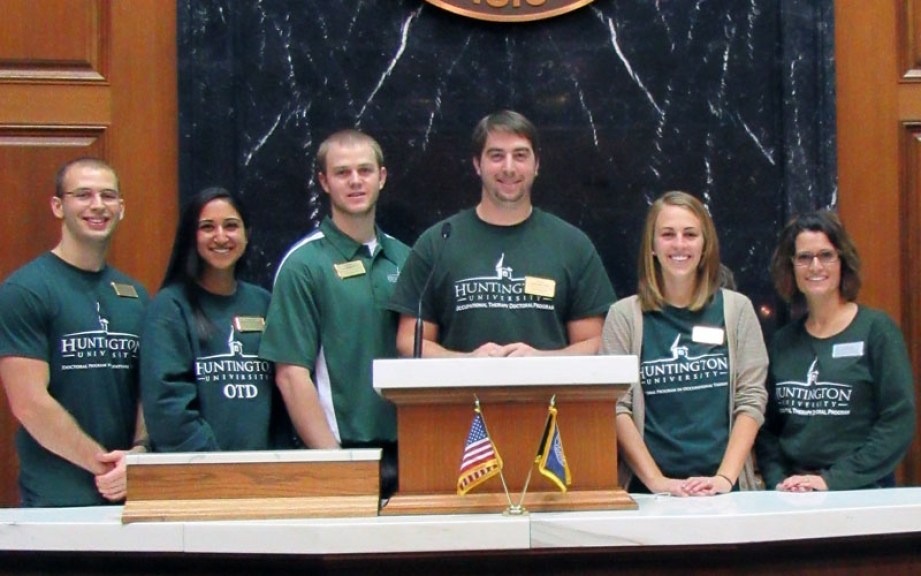 FOR RELEASE: Thursday, December 29, 2016
Huntington University's Doctor of Occupational Therapy students Roheen Virani (Atlanta, Georgia), Zack Bolton (Butte, Montana), Morgan Morrison (Wellington, Ohio), Kyle Fiorito (Waverly, Illinois) and Kalin Hale (Whitefish, Montana) organized a "Telehealth Lobby Day" in Indianapolis.
On December 5, the students were granted a meeting with the office of Cindy Kirchhofer, Indiana State House Representative, to discuss the inclusion of telehealth practice for occupational therapy. Telehealth is the ability to deliver occupational therapy services through telecommunication media which removes the barriers of travel and therapy shortages by allowing services to remain in the client's context and most natural environment. The students believe it is necessary to create a uniform definition and understanding for any service that impacts the community, therefore, specifically with Telehealth it will aide in consumer safety and protection. By establishing a formal bill, consumers, providers and insurance payers will have clear regulations for consumer accessibility and coverage.
Huntington University's OTD students presented talking points regarding legislation inclusion, and received direction from Representative Kirchhofer's assistant on how to further advocate for this potential bill submission. Additionally, the students received an in-depth tour of the capitol, including Governor Pence's office which is typically not open to the public.
"Educating students about advocating for their profession is a component of their doctorate program. It was exciting to see the efforts of these students make a significant impact on their future profession by immersing in the culture at the capitol which ignited the conversation about this potential bill submission," stated Dr. Denise Hoffman, assistant professor of Occupational Therapy.
Huntington University's OTD program began in 2014 and has been ranked #1 out of 450 OT schools in the United States by GraduatePrograms.com. Earlier this year, the OTD program was granted full accreditation by the Accreditation Council for Occupational Therapy Education of the doctorate degree for the next seven years.