OTD students present research at Washington D.C conference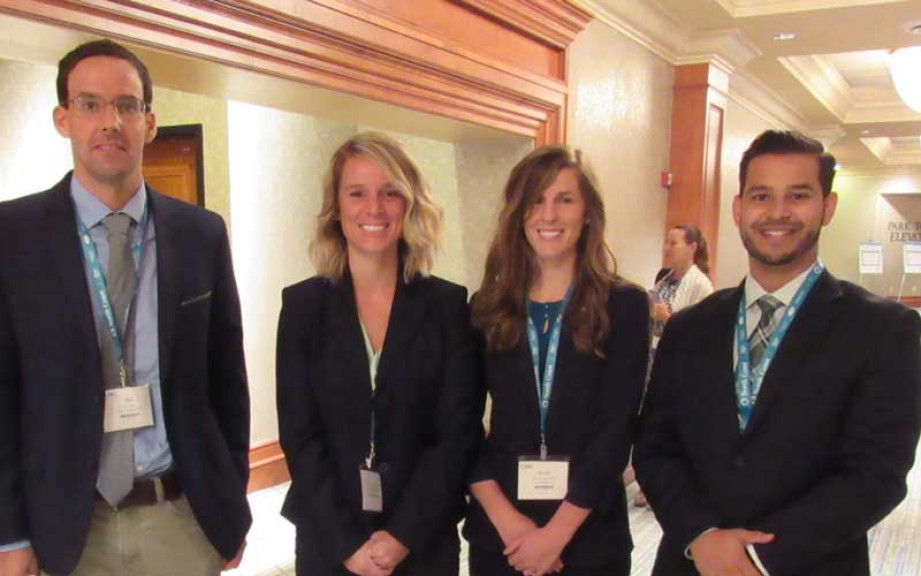 FOR RELEASE: Monday, October 10, 2016
Huntington University Doctor of Occupational Therapy (OTD) students Rachel Harmsen, Jimmy LaRowe, Andrew Rivera and Tori Warnaar presented their research findings at the American Society of Hand Therapists (ASHT) Conference in Washington, D.C., held in September.
The conference, which hosts clinicians and researchers nationwide, features clinical research as well as new and innovative techniques within the specialty area of hand and upper extremity rehabilitation. This experience represents the culmination of the students' research activities in the program, involving foundational coursework progressing to a student-driven, faculty-mentored research project in the student's second year of the OTD curriculum.
"The students presented with poise and expertise, demonstrating their professional growth and ability to navigate a national platform of such high-caliber," said Dr. Nathan Short, assistant professor of occupational therapy.
Harmsen, Rivera and Warnaar presented in a scientific papers session on their findings regarding the use of the app, Dexteria, and its impact on fine motor control. The Huntington students and faculty mentor, Dr. Nathan Short, presented alongside researchers from institutions such as University of Massachusetts, University of Southern California and Temple University to a crowd of over 400 conference attendees.
Harmsen stated, "To be immersed and able to present with such prestigious schools and individuals was an honor and I am so grateful for this opportunity." OTD students Grace Kjellgren, Chelsie O'Neill and Holly Pinney were also co-authors of the study.
Another student, Jimmy LaRowe, presented a poster demonstrating the results of a nationwide survey exploring the technology needs for Certified Hand Therapists (CHT). The findings of the research will contribute to the integration of technology within the nuanced specialty of hand therapy. The co-authors of this study were HU students Robin Wei, Mike Schutt, Olivia Francis, T'Neill Treherne and Christ Garau.
The research activities of the OTD program have grown significantly since the program began including the local MAHE research in partnership with Indiana University, state level conferences, as well as national platforms. Student Andrew Rivera summarized the experience as "An amazing honor to represent Huntington University and present peer-reviewed research on a platform like the ASHT conference. This feat has encouraged me to continue pursuing a specialty in hand therapy as I look to add more 'tools' to my OT toolbox."
Huntington University's OTD program began in 2014 and has been ranked #1 out of 450 OT schools in the United States by GraduatePrograms.com. Earlier this year, the OTD program was granted full accreditation by the Accreditation Council for Occupational Therapy Education of the doctorate degree for the next seven years.