Other Desert Cities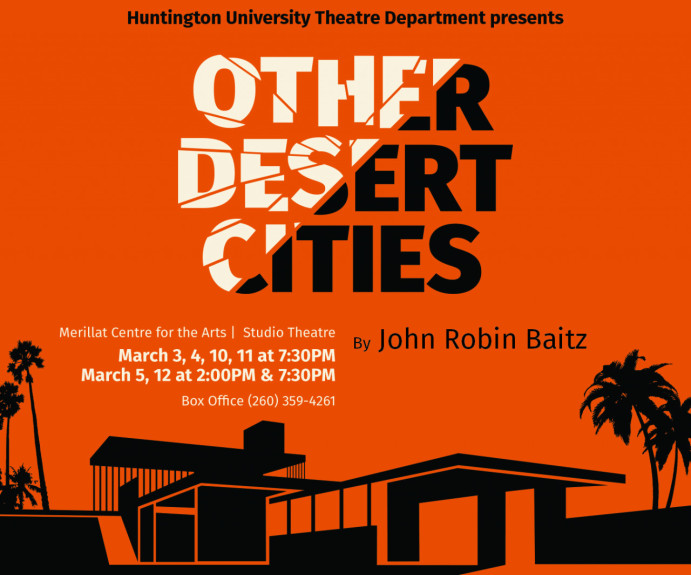 FOR RELEASE: Wednesday, February 24, 2016
When a novelist returns home to Palm Springs to visit her affluent and politically connected parents, conflict arises as she announces the imminent publication of her newest book, a memoir about the family's secretive and explosive past. This emotionally charged drama reveals a deep understanding of family dynamics with biting wit, intelligent dialogue and an intriguing plot that will keep you mesmerized to the very last twist.
This production will feature two professional actors alongside the talented HU student cast. Jan Leigh Herndon and Michael Haws are actors with long and exemplary careers in professional theatre. Ms. Herndon has several Broadway credits, including roles "A Chorus Line" and in the original Broadway company of "La Cage aux Folles." Mr. Haws spent many years working in professional theatres in Chicago and the Midwest, as well as numerous appearances in television and film. The theatre department is thrilled to bring actors of such notable achievements to share the stage with our students. This is such a rare and exciting opportunity that we hope all faculty, staff, students, community members and surrounding area theatre-goers will take advantage of seeing this production. Don't miss it!
Contact the box office for tickets and reservations at 260-359-4261. Seating is limited so get your tickets early. The play will run in the Studio Theatre on March 3, 4, 5, 10, 11 and 12. Please be advised that the play contains mature subject matter, adult situations and some coarse language inherent to the text. It is not recommended for children ages 12 and under.