Racially Radical?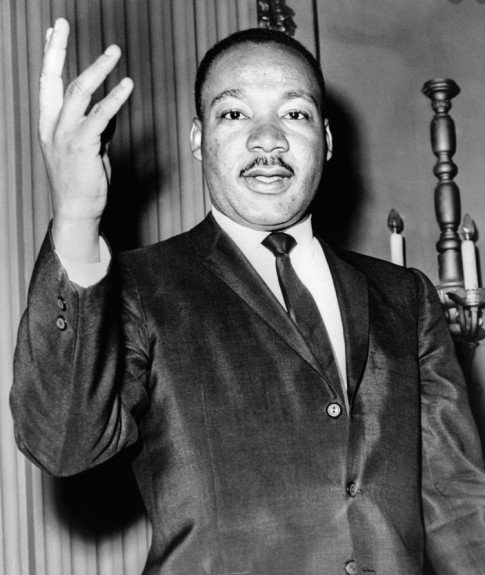 FOR RELEASE: Tuesday, January 14, 2020
"Faith is taking the first step even when you don't see the whole staircase." – Dr. Martin Luther King, Jr.
On January 20, 2020, Huntington University is doing something that might seem controversial or even racially insensitive. We have invited a white male police officer to speak at our annual MLK Jr. Convocation.
You read that correctly: Chief Keirsh Cochran, a white male dressed in law enforcement blue, will stand onstage where prolific men and women of color have stood before him, and he will talk about social justice and racial equality.
Who was the mastermind behind this idea? Rev. Arthur Wilson, campus pastor and dean of spiritual life at Huntington University. Rev. Wilson is an African American man who has always had a strong connection to the works of Dr. Martin Luther King, Jr., and other key civil rights leaders. Rev. Wilson approaches life through the lens of "What contribution can I make to improve the status of people?" And that's how he approached the 2020 MLK Jr. Convocation.
"I prayed about it," said Rev. Wilson. "I prayed and God said, 'Ask Keirsh.' When God speaks, I act."
A conversation with Rev. Wilson and Officer Cochran sheds some much-needed light on the vision for the 2020 MLK Jr. Convocation.
Why is someone like Officer Cochran ideal to speak at this service?
Rev. Wilson: We're in 2020, many years since Dr. King first gave us his dream of what he envisioned our nation becoming, and I know that an aspect of that dream has to be many people of different nationalities speaking to the causes he felt so passionate about. When he marched, there were people of all nationalities and ethnic backgrounds with him. When he was beaten, he wasn't just beaten with other African Americans; he wasn't just imprisoned with other African Americans. African Americans weren't the only ones to lose their lives in his movement for justice and liberty. And I think that is important for us to remember and reflect on. To show that his dream has continued in the process of being fulfilled. Part of the evidence of that is that we have many people in our cities, in our communities, in our churches, and in our universities who share his vision. Because Dr. King's vision wasn't just about minorities – it was about all God's children, black man and white man; that's what he said and that's the reason why I feel it's necessary.
There may be people who judge Huntington University for its choice in speakers for this service because Officer Cochran is white. What would you say to those people?
Rev. Wilson: To suspect that it has to be a minority, and I can only speak for myself as a minority, is one of the greatest insults to me as a minority. It is an insult to me to suspect a minority to always be the one to carry a message of reconciliation. But to have somebody who is of that same culture saying 'hey, we have a different message.' We do have representation. Our speaker happens to be white, we happen to have a white singer, but we also happen to have a biracial rapper, we also happen have a black gospel singer, we also happen to have a black dean of spiritual life who is going to provide the welcome, we also have a black multicultural affairs director who is providing the prayer, we also will have a Hispanic student doing the scripture reading. The fact that the focus is getting stuck on this white speaker, no. This is definitely intentional, intentional to have representation, because representation is important, but representation of all. And what people have done is excluded white people from MLK Jr. Day because it's this us vs them perspective and that has to end. It's us vs evil.
Officer Cochran, what about you? What would you say to those people?
Officer Cochran: Believe me, I understand the optics of a white police officer speaking at an MLK Jr. Day service. However, I want to emphasize that my commitment to civil rights has taken me to Dr. King's childhood home, the first church he pastored, his office, his pulpit, and his grave. I celebrate the life and legacy of Dr. King on a personal level. His photo is in my office. I believe if he knew there was a white police officer standing up for the cause and advocating for racial unity, he would be nothing short of overjoyed. I believe it's a piece of his dream realized.
Why is Officer Cochran uniquely suited to speak on this topic?
Rev. Wilson: To want to step into an occupation where there is already a negative perception of members of that community, to go into that as a white male to prove there are some good among the men who wear blue, that's a bold effort. By doing this, this really gives us an opportunity to examine where we are – how far we've come. Because by selecting a speaker who is Caucasian, there might be some who would become a little bit nervous or anxious because it appears as if Caucasians have organized this event. And part of the strategy behind this is to have us really think clearly about why we are doing this. I think one of the things we need to continue to build on is reconciliation, unity, diversity efforts, and initiative beyond a day.
Please join us on Monday, January 20, 2020, at 11:30 a.m. in Zurcher Auditorium in the Merillat Centre for the Arts as we celebrate the life and legacy of Dr. Martin Luther King, Jr., and his message of equality, social justice, and reconciliation. This event is free and open to the public.