Remembering Paul Fetters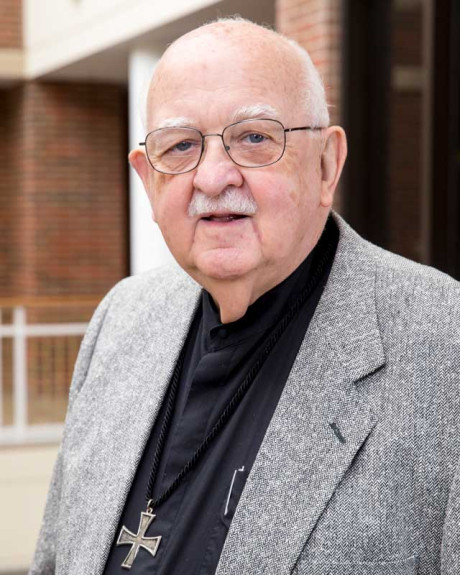 FOR RELEASE: Tuesday, November 1, 2022
Dr. Paul R. Fetters knew soon after his conversion to Christ at age 17 that he was meant to be a pastor. Through mentors and friends and the constant presence of God in his life, Paul found his way from being a farm boy in Ohio to being a scholar, theologian, pastor, author, mentor, and leader.
Not the first to seek out the role of leader, Paul was always one to take it seriously. From his collegiate days of leading Homecoming queen campaigns to leading Huntington University's Graduate School of Christian Ministries (at the age of only 38), Paul understood that leadership happens when those around you understand and believe in your cause. He believed "that the best way to ensure the success of any program is to cause as many people as possible to have a stake in its success or failure."
Never taking his success for granted, Paul made teaching an integral part of his life. For a child who "by his own estimation did not really have the right to occupy his 18 inches of [desk] space," 1 he went on to become a gifted — and beloved — teacher. As he often did, Paul used his experiences and what he learned from those who came before him. His sophomore teacher, for instance, helped him discover his love of literature. He grew over time in his own abilities to teach and educate those around him.
A lifelong scholar, Paul graduated in 1955 with a Bachelor of Arts degree from Huntington College, in 1959 with a Bachelor of Divinity degree from Huntington College Theological Seminary, in 1969 with a Master of Divinity degree from Eastern Baptist Theological Seminary, in 1975 with a Master of Science degree in educational counseling from Saint Francis College, and in 1980 with a Doctor of Ministry degree from Fuller Theological Seminary. He was awarded an honorary Doctor of Divinity degree from Huntington College in 2003.
Paul lived his life adhering to the motto "Welcome is the will of God." When God called, Paul answered, and he answered with a willing and open heart. Throughout his life he saw and sought opportunities to remind people of the power of prayer and the goodness of God. At the dedication of Fetters Chapel in 2008, he expressed a desire that the space would be "a place to meet God, to admit the emotion of the heart, to affirm the events of life, and to allow God to have the last word."
Paul Fetters went to be with the Lord on October 31, 2022. His life and legacy will be remembered by the thousands of lives he impacted through his teaching in a classroom and sermons from a pulpit, his numerous books, his "Atta Boy" and "Atta Girl" notes, or, perhaps, simply through the way he led a life worthy of the calling he received.