Remembering Ruth A. Merillat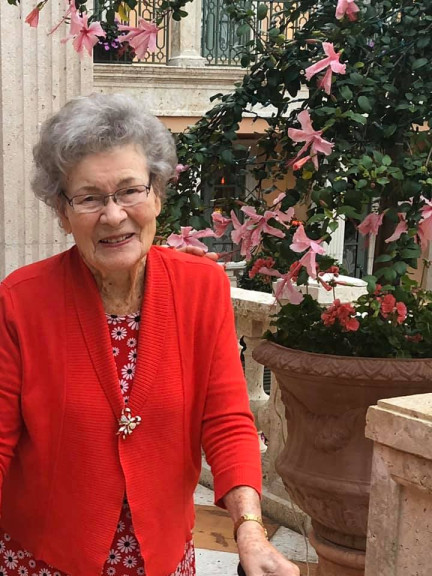 FOR RELEASE: Thursday, August 20, 2020
HUNTINGTON, Ind. — Ruth A. Merillat, co-benefactor, along with her husband, Orville Merillat, of Huntington University as well as many other educational and Christian institutions, went to be with her Lord and Savior on August 19, 2020.
"Ruth Merillat exemplified the importance of a life lived well," said Dr. Sherilyn Emberton, president of Huntington University. "She will be remembered for her generosity, kindness and grace, but mostly for how she loved Jesus.  Her faithful support of her family, her church and the United Brethren in Christ denomination, and Huntington University will be the legacy that lives on.  We are forever blessed by the work that the Merillat family has done for Kingdom impact."
Born January 18, 1921, to Wilber and Edna Meller, Ruth married the love of her life, Orville Merillat, on January 19, 1941, after making him wait two years until she turned twenty. With Ruth's encouragement, Orville took up the profession of carpentry while still early in their marriage. When Orville was serving in the Coast Guard during WWII, Ruth began to be concerned for Orville's salvation. She prayed and beseeched God with extra devotion, and her faith began to grow stronger. While Orville was home on leave in 1943, Ruth took him to a revival meeting at a United Brethren Church where he committed his life to Jesus Christ.
During the war, Orville sent most of his pay back to Ruth so they could build up their savings to establish a carpentry business. With that, and with what Ruth could contribute from her job in the defense industry, they were able to open the Merillat Woodworking Company in 1946 that would eventually evolve into Merillat Industries. All along the way as the company developed Ruth worked at Orville's side as wife, mother, helpmate, and bookkeeper for the business. In his biography, Orville credits Ruth with making the financial side of the business a success and even working in the shop with him when it was necessary.
Both Ruth and Orville served the United Brethren Church faithfully. Ruth helped in the music and junior church ministries and Orville taught Sunday School and served as a lay leader. As their business grew so did their support for the church and other Christian and educational causes. They played a major role in the construction of Trenton Hills United Brethren Church in Adrian, Michigan, and in time helped many other United Brethren churches with building and development projects.
President E. Dewitt Baker credited them with turning the tide for the college in the early 1970s after some difficult years. Orville and Ruth Merillat were able to completely finance the new physical education facility which opened in 1973 and was named in their honor. This in turn raised the profile of the institution and attracted more students to the University. In the 1980s, with their generous support, the campus was transformed, including about 19 different projects and renovations the Merillats financed in some measure. Students and faculty also benefited from their support. The Merillat Scholarship helped many students realize the goal of Christian higher education at Huntington. The Merillats also supported several faculty development projects that bolstered the University's faculty and raised the quality of education. Former Board of Trustees Chair Bishop Ray Miller indicates that the University's "reputation and enrollment would not have grown if it were not for [their] interest and substantial gifts." In 1978 Huntington awarded the Merillats an honorary Doctor of Humanities for their support of numerous Christian and civic organizations. They also received the Huntington College Centennial Medallion in 1996.
When Orville and Ruth sold their business in 1985, they used the money to establish the Christian Family Centre in Adrian, Michigan. This and numerous other related projects and causes demonstrated their devotion to God and family. Dr. G. Blair Dowden noted that they viewed the money they so generously donated as "God's money."
In Orville's biography, Ruth was given the final say. He quotes her saying,
"God has given Orville and my wealth and influence, and yet, everything we own belongs to God. We stand firmly on that principle, and refuse to budge from it … I think this is the reason why I cherish this two-line poem … I believe it sums up why Orville and I have lived our lives the way we have."
Just one life, 'twill soon be past;
Only what's done for Christ will last.
Huntington University is a comprehensive Christian college of the liberal arts offering graduate and undergraduate programs in more than 70 academic concentrations. U.S. News & World Report ranks Huntington among the best colleges in the Midwest, and Forbes.com has listed the university as one of America's Best Colleges. Founded in 1897 by the Church of the United Brethren in Christ, Huntington University is located on a contemporary lakeside campus in northeast Indiana. The nonprofit university is a member of the Council for Christian Colleges and Universities (CCCU).