Sophomore Awarded "Realizing the Dream"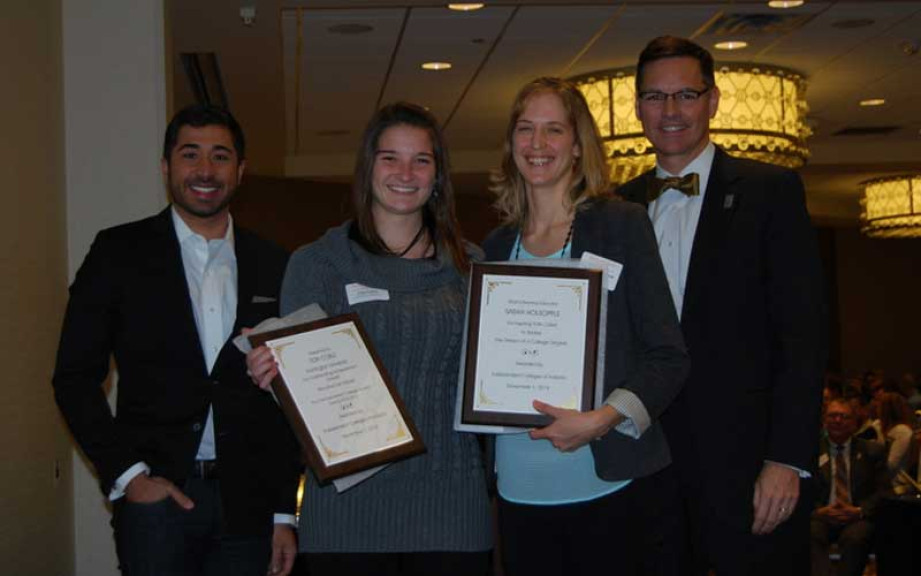 FOR RELEASE: Friday, November 21, 2014
Tori Coble, a sophomore nursing major from Syracuse, Ind., was awarded the "Realizing the Dream" scholarship, given to 31 students from Indiana's private colleges and universities who are the first in their families to attend college.
Coble and the other students were selected by their colleges for outstanding achievement in their freshman year.
Made possible by a grant from Lilly Endowment Inc. to the Independent Colleges of Indiana, the "Realizing the Dream" program is marking its 25th anniversary. With this year's class, it has recognized more than 750 first-generation students attending ICI campuses, along with their inspirational teachers and families. The celebration was held at the Sheraton Indianapolis at Keystone Crossing, with a reception and an awards dinner and featured a special anniversary video.
Each honored student received a $2,500 check to help with college costs, and each student's chosen "most influential" teacher/mentor received $1,000. One out of every three students on ICI campuses is a first-generation one. Generous financial aid provided by the campuses themselves, combined with state and federal grants, makes a private college education a possibility for all students in Indiana.
One of Coble's high school teachers, Sarah Holsopple, of Wawasee High School in Syracuse, Ind., received a "most influential" teacher/mentor award.
This year's keynote speaker was Santiago Jaramillo, CEO and founder of BlueBridge Digital, a mobile-apps-as-a-service company that helps colleges, tourism destinations, churches, and others communicate with their customers through visually compelling, full featured mobile apps. A graduate of Indiana Wesleyan University, he was named the 2013 TechPoint Mira Award's "Young Professional of the Year", invited recently to the White House to a ceremony for "Champions of Change" for immigrant innovators and entrepreneurs, and recognized by Inc. Magazine in its 2013 "30 Under 30: World's Coolest Entrepreneurs" feature.
"We are so grateful to Lilly Endowment Inc. for making this inspirational program possible for 25 years now," says Richard L. Ludwick, ICI president & CEO. "We are proud, too, that because of the higher graduation rates of our ICI colleges and universities, these students are twice as likely to realize the dream of completing their degrees in four years."