Spirit of a Forester Award Bestowed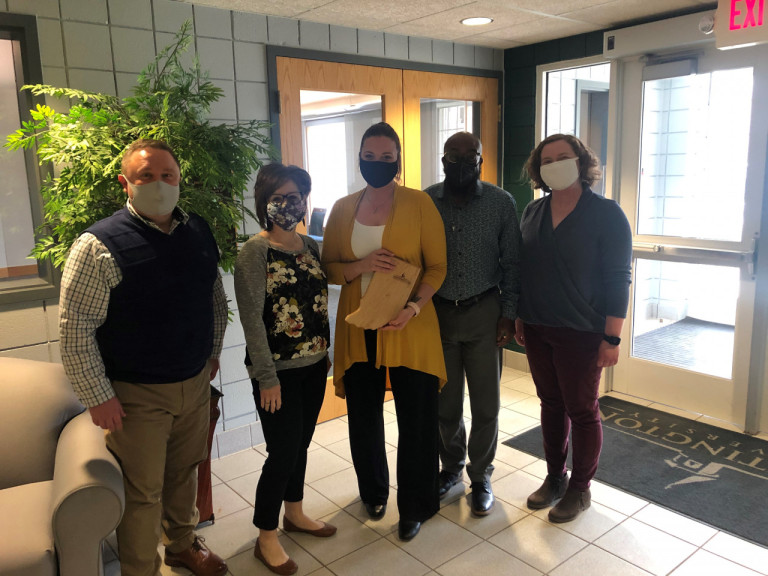 FOR RELEASE: Thursday, April 8, 2021
Huntington University is pleased to announce that Lynette Fager, director of communication, was the recipient of the March Spirit of a Forester award. This peer-nominated award is bestowed monthly upon a Huntington University employee who demonstrates the characteristics of a Forester.
Fager's peers emphasized the ways she brings the Spirit of a Forester to each project she is involved in, stating that "Lynette understands the work and meaning behind a project. Her goal is not to check it off her to-do list. Her goal is to finish the project so well that alumni and friends desire to have a deeper relationship with Huntington University." Moreover, "under her Lynette's leadership, Huntington University is consistently branded more than ever before and is being noticed in the community/region because of the different marketing projects of which she has been a part."
What is a Forester? The simple answer is that a Forester is a Huntington University student. Any student at any location and any age. But the truer answer is that a Forester is a lifetime appointment of chasing truth, defying complacency, remaining curious, caring completely, embracing interconnectedness and demonstrating grit and creativity. Together, these traits come together to point others toward Christ. We take great pride in being Foresters, but we realize that we are fallible. That doesn't negate our efforts. Instead, our fallibility highlights our reliance on Christ, the importance of our relationship with Him, and our potential for growth.