Spirit of a Forester Scholarship Competition Winners Announced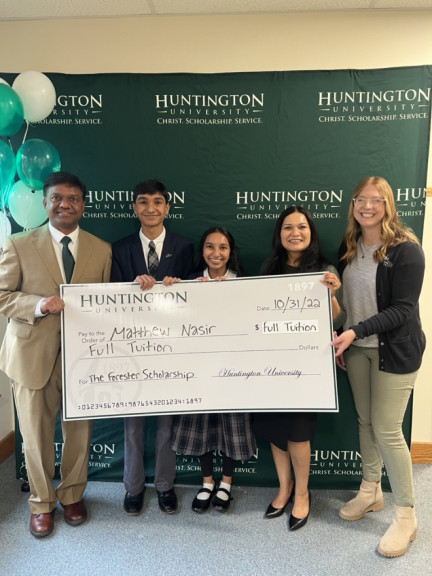 FOR RELEASE: Monday, November 7, 2022
On October 21-22, Huntington University hosted its first Spirit of a Forester Scholarship Competition. The process for attendees included an onsite extemporaneous essay and faculty/staff interviews as well as opportunities for extra credit that aligned with the University's Spirit of a Forester traits. The competition awarded scholarships ranging from full tuition to $16,000. The recipient of the full tuition scholarship is Matthew Nasir from Elletsville, Indiana. Nasier plans to study history and political science with a focus on pre-law.
Additional scholarship recipients include the following:
Kelby Roberts, Falmouth, Indiana

Hannah Everett, Cave Creek, Arizona

Jayda Gregory, South Whitley, Indiana

Ella Hudspeath, Wauseon, Ohio

Maxwell Taylor, Cincinnati, Ohio

Elizabeth Kamphausen, Crawfordsville, Indiana

Rebekah Johnson, Fort Wayne, Indiana

Mary Behrens, Barryton, Michigan

Jianna Simons, Doylestown, Pennsylvania

Victoria Chambers, Arcadia, Indiana

Adria Ruberg, Marion, Indiana

Alyssa Allen, Shirley, Indiana

Ephraim Podgorski, Michigan City, Indiana

Eliza Byrum, Kokomo, Indiana

Emme Grisez, Peru, Indiana

Anna Calhoun, Berne, Indiana

Teegan Acres, Fishers, Indiana

Julia Hammel, Columbia City, Indiana

Miriam Kline, Avilla, Indiana
The Spirit of a Forester Scholarship Competition is a two-day event including a dinner and evening programing on Friday and a competition day on Saturday. A second Spirit of a Forester Scholarship Competition will take place in February 2023. If you would like additional information, please email admissions@huntington.edu.