Financial Details
Success is Part of the Affordability Equation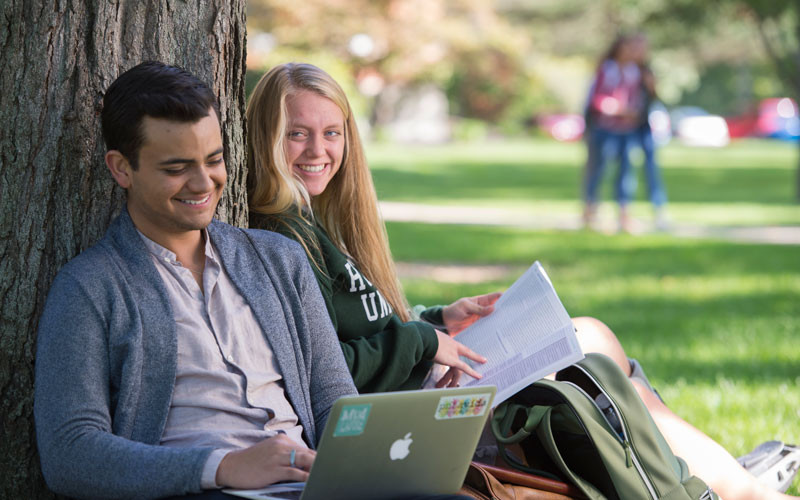 Tuition, fees, room, and board rates are established each spring for the succeeding year. Prices are moderated through the generosity of friends and alumni of the university and the supporting denomination who annually contribute over 25% of the university's operating costs. As a result, tuition and fees provide only 75% of the cost of educating a student.
Financial Aid is also available with more than 90% of our students receiving assistance through academic merit, financial need and talent.
Personal Property and Liability
Students who need personal bank accounts are encouraged to use one of the local banks for checking and savings. The university is not responsible for the loss of personal property on the campus by fire or from any other cause. Students are advised to verify insurance coverage that may be extended from parents' homeowners insurance. Students are responsible for all university property, materials, and equipment issued to them and will be charged for loss or breakage.
Payment of Student Accounts
Students may make advance payments to the university on their accounts for the coming year from their earnings during the spring and summer months. Funds are held in trust until classes begin and may be withdrawn or transferred by the student.
In June and in December, an official billing is sent to each student for the subsequent semester. Billed expenses are due by August 10 for the Fall semester; December 20 for the Spring semester and 'due upon receipt' of the billing statement for the summer semester and for January Term.
Students are not allowed to begin the semester unless full payment has been received. Full-time students may make prior arrangements for installment payments through Nelnet Campus Commerce. Students should join Nelnet Campus Commerce by July so they are prepared to enroll in the payment plan once they receive their billing statement. The Net Amount Due represents the total semester charges, less any scholarships, grants, or loans confirmed by the financial aid office but not including estimated awards or anticipated earnings, such as work-study employment which cannot be considered until they are earned or finalized.
The budgeted amount elected under the payment plan should be sufficient to cover the balance due for the semester. Alternatively, students may choose to arrange private financing for educational expenses through one of several private lenders. The Financial Aid Office is able to provide information about such lenders.
Clearance To Attend Class
Students whose bills have been paid or who have made appropriate financial arrangements in advance may view and print their registration by using the Student Portal. Until all financial obligations are met, registration is not complete and students are not permitted to view their registration on the website. Students who are not CLEARED in advance will be permitted to attend classes the first day only.
Unpaid Student Accounts
Students who are delinquent in the settlement of any of their accounts with the university forfeit university privileges, including class attendance, board, and room. Students whose accounts are not paid in full or otherwise provided for are not issued official transcripts or permitted to register for a new semester. Diplomas are not issued and no official transcripts of credit will be issued until all financial obligations have been cleared.

A service charge of 1.5% or $30, whichever is greater, is added to any unpaid balance in the student account as of the last working day of each month.
Refund Policies
Students who officially withdraw from Huntington University or who reduce their course credit load (which reduces the tuition to be charged) may be entitled to a refund on the tuition paid for courses dropped, according to the refund schedule. Before the official beginning of classes, full tuition is refunded. For withdrawal after the beginning of classes, the date for any refund is the official date of withdrawal based on whether that official date falls within the specified week or day below.
No refunds of activity, lab, or other fees are made after the first week of classes. Students who have been dismissed may not appeal for refund of tuition. Students who are called to active military duty and withdraw from classes at any point in the term will receive a refund of 100% of tuition and fees. Room and board refunds are calculated as described on the refund schedule.
Room refund follows the same schedule and policies above.

Board refund is provided at 90% of the unused full weeks remaining in the term.

Students considering reducing their status from full time to part time (less than 12 hours) should discuss those plans with the Financial Aid Office since most financial assistance is available only to full-time students. If a student withdraws or is dismissed, scholarships and grants are prorated to the tuition charged. University scholarships and grants may be recomputed and the student charged for the unpaid cost.

Students receiving Federal Title IV Student Financial Assistance may be entitled to a refund in accordance with the Federal Refund Policy or the Federal Statutory Pro Rata Refund Policy. All refund distributions will be made according to Federal laws and regulations. Students with questions regarding these policies should contact the Office of Financial Aid.