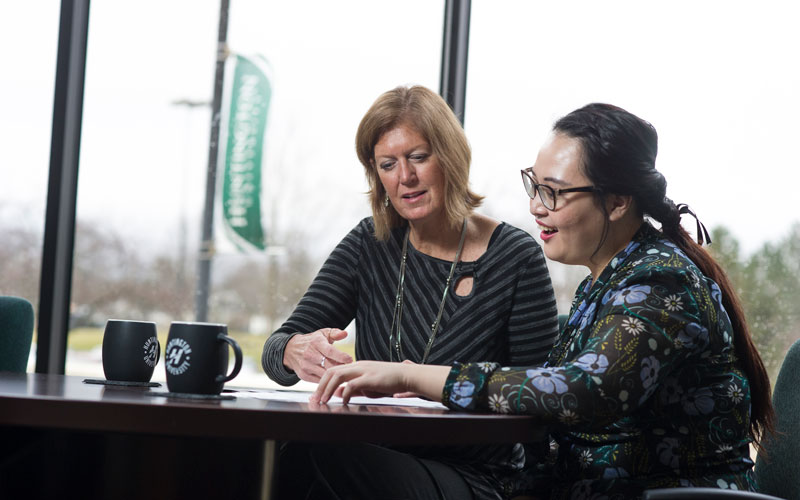 Will I be able to afford a private college?
A common concern among parents and prospective students centers around the cost of a private education. You may be wondering whether or not you can afford an education at Huntington University.

Keep in mind the stated price of a private college education is often misleading. The more expensive the college, the more aid you may qualify for to make up the difference between what your family is expected to contribute and the price. Because the need is greater, the financial aid may be greater.

More than 90% of our students receive financial aid.
How do I apply for financial aid?
Complete the Free application for Federal Student Aid (FAFSA) online by visiting www.fafsa.gov as soon after October 1 as possible. Use your tax returns from two years prior to complete the FAFSA. Respond promptly to any requests made for additional information or documentation. List Huntington University as a school to receive your financial aid information. Our Federal School code is 001803. Indiana residents must file the FAFSA to be eligible for State aid and it must be completed by April 15 (we suggest using March 1 as your deadline). Out-of-state residents are encouraged to file the FAFSA prior to April 15 in order to receive maximum consideration for aid. You must be accepted for admission at Huntington University before you can receive financial aid consideration.
What is the purpose of financial aid?
The primary purpose of the financial aid program at Huntington University is to provide assistance to students who wish to benefit from a higher education but cannot afford to do so without help.
Federal aid programs are designed under the assumption that parents will, to the extent they are able, take the primary responsibility to pay for their children's education. Thus, financial aid programs are designed to help students who show a financial need.
How is financial aid determined?
Financial need is based on the ability of the student's family to pay for college taking into account such factors as income, assets, debts, and number of family members.
In order to determine your financial need, Huntington uses the FAFSA. This helps us determine what your family is expected to contribute toward your education. This figure is known as the Expected Family Contribution (EFC).
What sources of financial aid are available?
Financial aid can be divided into two categories:
Gift Aid: Gift aid does not have to be repaid - it is "free money". Funds for gift aid are provided by federal and state governments, private organizations, and college funds. Generally, these funds are awarded in the form of scholarships and grants. Scholarships and grants are the only sources of financial aid that do not require you to repay or earn the funds received. Grants are usually awarded on a need basis. Scholarships may be awarded based on need, academics, performance, religious affiliation, specific majors, etc.
Self-Help Aid: Self-help aid must either be earned or repaid. Employment and loans are the two categories under self-help financial aid. Employment is awarded in the form of Federal Work-Study. A student must earn his/her employment award. Students may be eligible for a Federal Direct Subsidized Loan or Federal Direct Unsubsidized Loan. Parents may be eligible for a Federal Direct PLUS Loan. These forms of financial aid must be repaid.
What is the difference between a subsidized and unsubsidized loan?
Subsidized – the government pays the interest while you're in school until six months after you graduate or are no longer a full-time student.
Unsubsidized – the interest still accrues while you're in school, but the government does NOT pay it, we encourage families to pay on it while you're in school if possible.
Payment on both loans begins 6 months after graduation or when you are no longer a full-time student.
When will I receive my financial aid package/award letter?
Typically, we begin mailing out financial aid award letters in February.
When do I receive a billing statement?
Billing statements (sometimes referred to as Course and Fee Statements) come from the Business Office. They typically are mailed out the middle of July for the fall semester, and the middle of December for the spring semester.
Where can I get more information?
Write:
Office of Financial Aid
Huntington University
2303 College Avenue
Huntington, IN 46750
Call: (260) 359-4326 or 1 (800) 642-6493
Email: finaid@huntington.edu
Other helpful financial aid websites: