40 students awarded at Forester Film Festival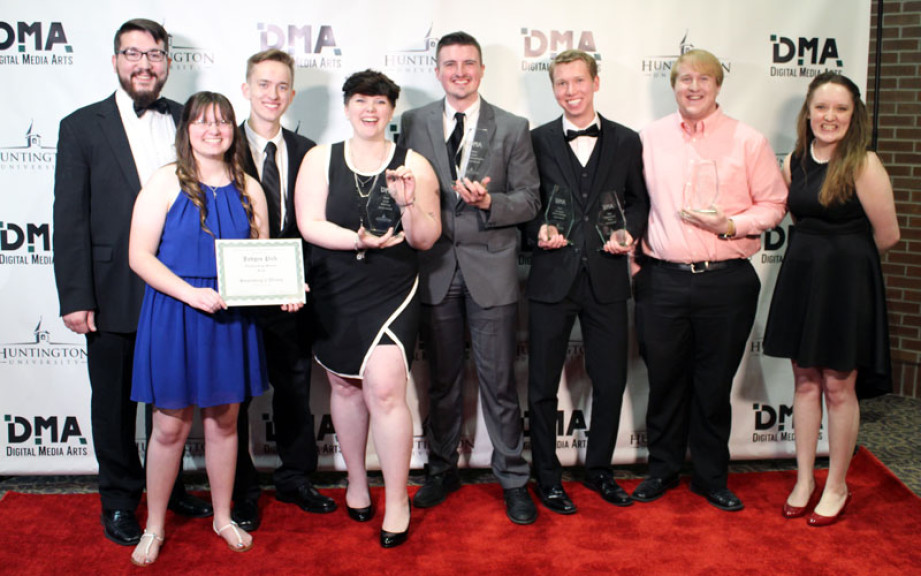 FOR RELEASE: Tuesday, May 24, 2016
Huntington University's Digital Media Arts department awarded 40 students at its 2nd Annual Forester Film Festival, featuring the best of the best in student-produced film, animation and broadcast-fusion media.
The festival took place Friday, May 6, in the Zurcher Auditorium located in the Merillat Centre for the Arts. It was a black-tie event, and there was a red carpet and special awards presented following the screening of the top student films for the year. Judges consisted of HU alumni, independent filmmakers and seasoned professionals from around the country.
Best in Show Awards:
Animation: The Guest – Nikki Hines (Peru, IN), Sean Fitzpatrick (Sellersville, PA), and Rebecca Strong (Saint Joe, IN)
Broadcasting: Fight MS – Adam Konger (South Whitley, IN) and Randi Orr (Corunna, IN)
Film: The Villa Dakota Effect – Adam Konger, Evan Matteson (South China, ME), and Mason Bowen (Defiance, OH)
High School Best in Show Awards:
Animation: 2187 – Sebastian Cubillejo (Grosse Pointe Farms, MI)
Broadcasting: Once Upon a Time in Cambodia – Katie Spence (Sherman Oaks, CA)
Film: Changing Cars – Jack Campise (Columbus, OH)
"This year's Forester Film Festival had over 900 film, broadcast media and animation submissions for our judges to critique and score. The quality of our student work is simply astounding and the faculty couldn't have been prouder to showcase their work," said Dr. Lance Clark, associate dean of the arts.