Alumni Award Recipients Named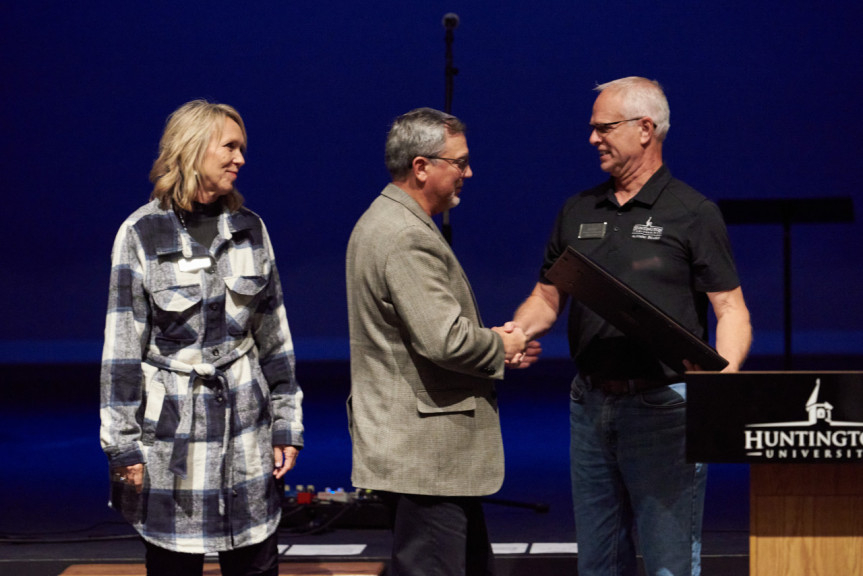 FOR RELEASE: Friday, December 2, 2022
Huntington University congratulates the 2022 alumni award recipients: Greg Smitley, Class of 1980, and Kevin Byerley, Class of 2000. Smitley is receiving the Distinguished Alumnus Award, and Byerley is receiving the Alumnus of the Year Award.
The Distinguished Alumnus Award is designed to recognize distinguished service or achievement over a longer period of time (like a lifetime achievement award). Those who nominated Greg Smitley for this award painted a very clear picture of a man who is invested in his community, cares about making a difference and strives for excellence and growth.
Smitley has made a career in the banking industry for more than 40 years. He has served in a variety of roles, from branch manager to senior lender to bank president. He distinguished himself among his peers by being selected as the Indiana representative to the Bankers Advisory Board of the Graduate School of Banking at the University of Wisconsin-Madison, the nation's most prestigious banking school. In his final year on the Board, he was selected as chairman and served on the Education Committee and as a guest lecturer. Additionally, he has served his local community through his involvement in many organizations, including Junior Achievement, the Grabill Town Board, Huntington County Economic Development, Rotary International, and the Huntington County Community Foundation Board.
He has served his alma mater as Alumni Board president and as a member of the President's Advisory Council on Excellence (PACE), the Huntington University Foundation Board and the Board of Trustees. Smitley was HU's vice president for finance for five years. His time in that position was marked by notable developments that included negotiating the lease and directing remodeling for the Arizona location, coordinating construction of the Ware Plant Science Production Facility (greenhouse) and the new admissions wing, outsourcing maintenance services to a professional maintenance company, installing heating and cooling in Becker Hall, the relocation of the Academic Center for Excellence and board room in RichLyn Library, the occupational therapy assistant lab, the Multicultural House, and updating the University's fleet of vehicles. He was also instrumental in beginning the planning stages for the HUB remodel and what is now the Don Strauss Animal Science Education Center.
The Alumnus of the Year Award is designed to recognize recent outstanding achievement, recognition or service. This award may not be given each year and may not be limited to one alumnus per year.
Kevin Byerley received multiple nominations for this award, and while reading through them, the Huntington University Alumni Association quickly saw some common themes. Words like "mentor" were common in the nominations. Phrases like "true leader" and "passion for helping kids" were repeated. Though his career of helping others is vast and his impact is far reaching, it is his leadership of Elevate USA that has earned him this award.
Byerley joined Colorado UpLift in 2002, first as a teacher-mentor working with the youth of Southwest Denver. His passion for helping kids led him to develop the Adventure Program, where students use the outdoor classroom to build resiliency. He later served as director of staff operation, utilizing his experience building high-functioning teams to bring the staff together in collaboration. Today, Kevin serves as CEO of Elevate USA, where he helps ensure that they build a national culture of "best practice" innovation and mission alignment with the affiliates they serve. As a first-generation undergraduate and graduate degree holder, Kevin models for students the importance of education and character and uses his platform as CEO to advocate for the "unseen, unknown, and unheard."
Visit HU's YouTube page to see the award recipient videos.
Huntington University is a comprehensive Christian college of the liberal arts offering award-winning graduate and undergraduate programs in more than 70 academic concentrations. Founded in Huntington, Indiana, in 1897 by the Church of the United Brethren in Christ, Huntington University has over a century of experience educating graduates who are ready to impact the world for Christ through scholarship and service. The nonprofit university operates at three academic locations, including the original home campus in Huntington, a doctoral program in occupational therapy location in Fort Wayne, Indiana, and an undergraduate and doctoral program location in Peoria, Arizona. Online programs are also available. Huntington University's home campus offers 17 men's and women's athletic programs, and the university is a member of the Council for Christian Colleges