Ambassador Enterprise Holds Ceremony for MBA Grads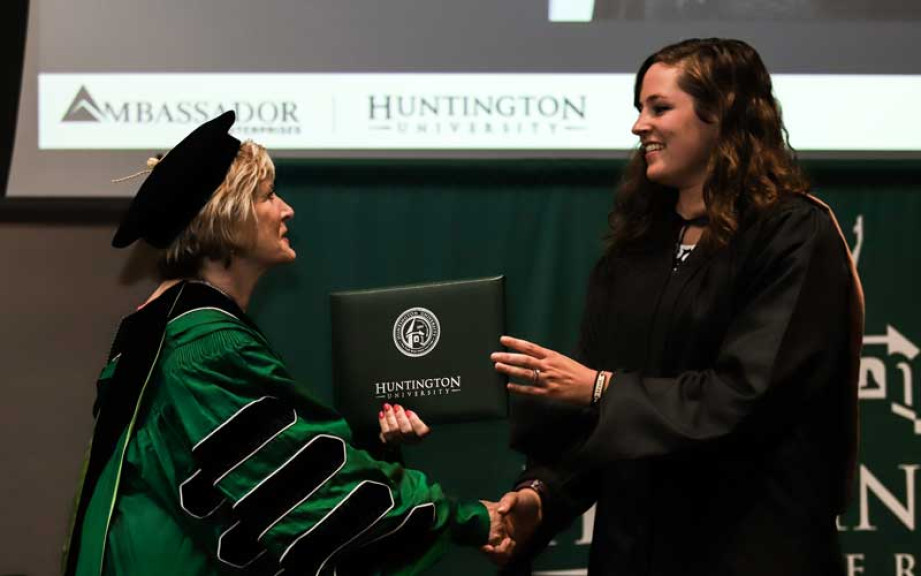 FOR RELEASE: Thursday, October 4, 2018
The Huntington University MBA program celebrated its first graduating class from Ambassador Enterprises, LLC, on September 14. Huntington University's Graduate School with support from Ambassador Enterprises of Fort Wayne, Indiana, launched its Master's in Business Administration degree programin 2016, and its first cohort of students were Ambassador employees.
"Celebrating the first graduating class of Huntington University MBA students from Ambassador Enterprises was a meaningful time for all involved and a historic event for Huntington University and its Business and Economics department," said Dr. Brock Zehr, acting director of the MBA program and assistant professor of business. "We are proud of the achievements, stories, and future goals of these graduates and know they will make a positive impact in Northeast Indiana and around the world."
Ambassador Enterprises invests in mid-market companies worldwide. They held a graduation ceremony for the group of 13 students by hosting a dinner, ceremony, and reception at The Summit in Fort Wayne. This was a historic event for both Huntington University and Ambassador Enterprises since it commemorated the first class of graduates from the collaborative program.
"It was an honor and privilege to be a part of Ambassador Enterprises and Huntington University's first-ever MBA graduation ceremony," said Matt Lesser, senior executive manager of Ambassador Solutions Institute. "This event reminded me of why we are doing what we are doing: to honor God through an MBA program that is committed to developing effective, Christ-centered leaders with real-world experience. From the inspiring speeches, to the smiles of the graduates, to the camaraderie between Ambassador and Huntington, the atmosphere of the evening was one to be remembered. We are grateful to be partnering with Huntington to intentionally invest in the development of leaders in our community."