Bells to Ring at Huntington University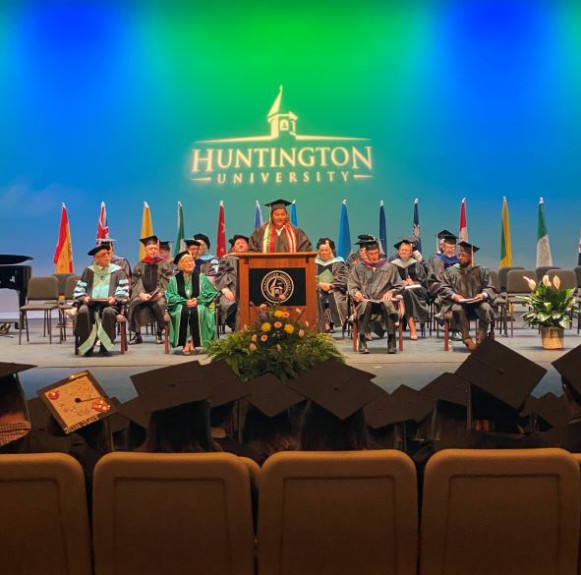 FOR RELEASE: Thursday, May 19, 2022
Thanks to an investment from the Class of 2022, Huntington University is thrilled to announce that for the first time in well over a decade, the sound of bells in Becker Hall will ring out again.
Each year, the graduating class of Huntington University's undergraduate population gift the campus community with something that will make an impact on future Foresters. According to Senior Class Representative Ani Weitzel during her graduation speech announcing the gift, "it is [the Class of 2022's] hope that in the years to come, the bells will ring out over Huntington University to mark new beginnings, to welcome students to classes, to mark moments of significance, to celebrate achievements, and to call all Foresters together."
"To me, [the ringing of the bell] symbolizes just another thing that unites us as a Forester Family. It's a way for freshmen to alumni to connect and be called home. It also is a way for our campus to show that though things have changed on campus, it is still the same Huntington University (once College) that we all know and love," said Weitzel.
Historic documentation indicates that the bell and bell tower have been part of the Huntington University campus since its founding in 1897. The bell rang with pride from the bell tower for decades, but since the mid-1900s it has gone through periods of silence and restoration, including the introduction of a carillon.
"There's much lore surrounding the bell in HU's bell tower and, admittedly, that mystique adds to the campus charm," said Dr. Ron Coffey, vice president for student life and member of the Class of 1981. "But the reality is straightforward: To have chimes ring out once again from the bell tower of Becker Hall is a boon to Foresters and near and far."
This is not the first time an HU graduating class has played a significant role in the bell tower's history. The Class of 1989 was pivotal in fundraising for the 1989 restoration of the bell tower's steeple. The Class of 1995 gave a new clapper for the bell as the class gift at Commencement. And now, the Class of 2022 has provided the opportunity to restore the sound of bells once again.