Director of Indiana's Ag Department to speak at Foundation Breakfast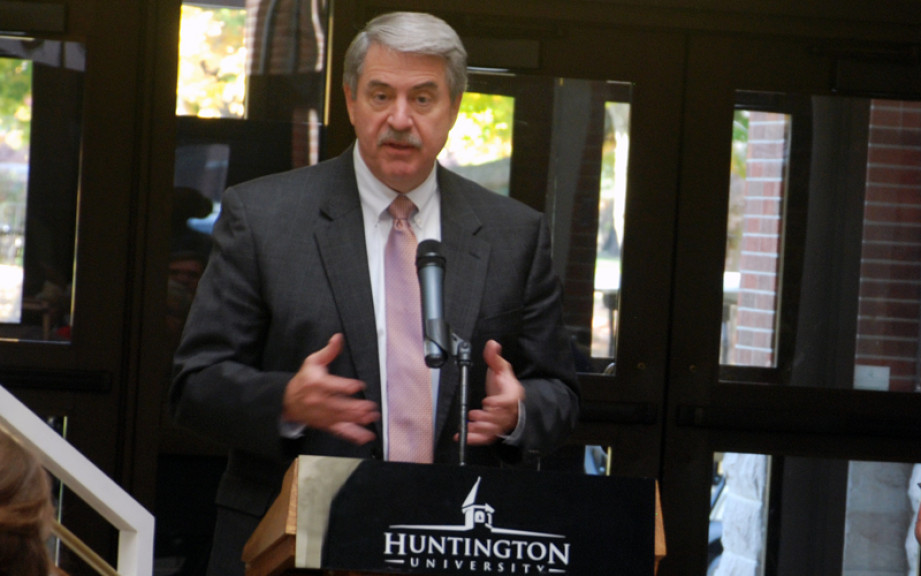 FOR RELEASE: Thursday, January 28, 2016
The Huntington University Foundation breakfast on Wednesday, February 10, will feature Ted McKinney, director of the Indiana State Department of Agriculture, as he gives updates about the outlook of Indiana agriculture and the impact of the spring 2015 floods.
"This is an exciting time for Indiana agriculture which, as an industry, contributes $25.4 billion to the Hoosier economy and makes up 17 percent of the workforce," McKinney said. "With our economy and countless families invested in the industry, especially in Huntington, it's important to understand where the industry is, how we got here and what the future holds for agriculture in our state."
Dr. Raymie Porter, director for the Haupert Institute for Agricultural Studies, also will touch on the inaugural year of the university's agribusiness program and share his goals for the program moving forward.
"I commend Huntington University for bringing together a good agribusiness program and marrying it with the faith component, which is what the university is known for," McKinney said. "We need to ensure that Indiana's future leaders in agriculture have the skills necessary to compete on a global scale, and education is a critical component of that."
McKinney was raised on a family farm in Tipton, Indiana. He was a 10-year 4-H member, a former Indiana State FFA Officer and a graduate of Purdue University where he received a B.S. degree in Agricultural Economics in 1981. During his time at Purdue, he received the G.A. Ross Award as the outstanding senior male graduate, and in 2002, he was named a Purdue Agriculture Distinguished Alumnus.
McKinney brings over 25 years of agriculture leadership experience to his position at the Statehouse, having spent much of that time at Dow AgroSciences and Elanco. He has been the director of the Indiana State Department of Agriculture since 2014.
The February Foundation Breakfast featuring McKinney will take place on Wednesday, February 10, at the Habecker Dining Commons with breakfast beginning at 7:30 a.m. and the program starting at 8:00 a.m. and concluding by 9:00 a.m.
The cost of the breakfast is $10, a portion of which will help support local students attending HU through the Huntington County Grant. First-time attendees enjoy a complimentary breakfast courtesy of Bailey-Love Mortuary. The Foundation Breakfast is held on the second Wednesday of each month, October through May, and is open to the public.
Founded in 1938, the Huntington University Foundation exists to support the mission of the university by promoting education and fostering a synergistic relationship between the university and the Huntington County community and surrounding area.