Fall 2021 Alumni Awards Announced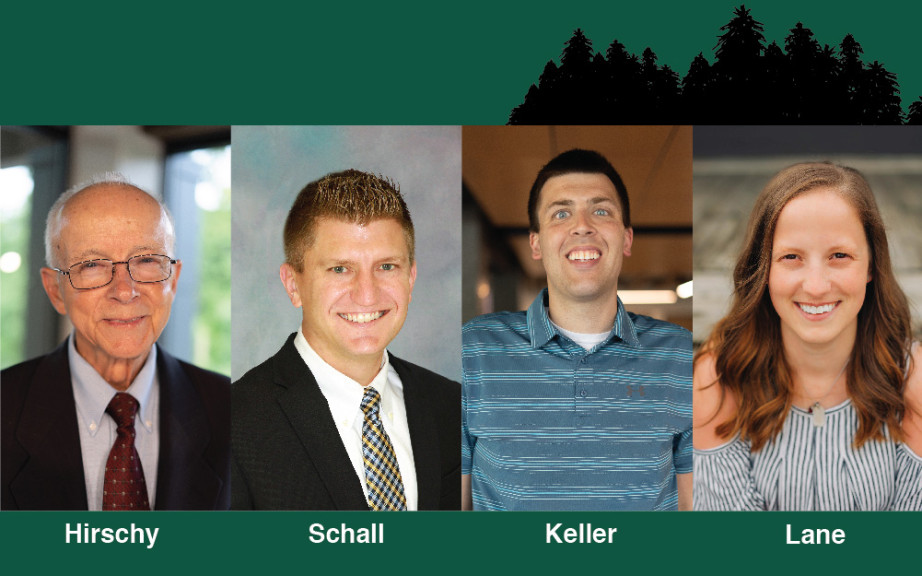 FOR RELEASE: Friday, September 17, 2021
Huntington University is pleased to announce the recipients of this year's alumni awards: Paul Hirschy, Brandon Schall, Zachary Keller and Kayla Lane.
The Distinguished Alumni Citation is designed to recognize exceptional service or achievement over a longer period of time — a premise similar to a lifetime achievement award. This year's recipient is Paul Hirschy.
Hirschy is a 1968 graduate of Huntington University (then College), and he has spent his life serving others, beginning with serving on the student senate for four years and as student body president while at HC. He went on to spend 27 years in varying leadership roles with the Church of the United Brethren in Christ, including serving as bishop of the UB denomination from 2001-2005.
"[Paul has] always showed a servant spirit, willing to do whatever was asked of him, and doing it to the best of his ability," said Steve Dennie, UB director of communications and Hirschy's coworker from 1978-2005.
Huntington University's Alumnus of the Year award is designed to recognize an alumnus' outstanding achievement or recognition. This year's recipient is Brandon Schall. Schall is a 2003 graduate of Huntington University (then College) and currently serves as the senior vice president of client services at American Specialty. He has worked for the company since 2008. Before this position, he was the senior vice president and chief marketing officer (2014-2020) and vice president of client services (2008-2014).
Friend and coworker Spencer Batt said of Schall that "he looks at his neighbors, coworkers, fellow parents at his children's school, business clients and anyone else he meets as a person he can love and have a Godly impact upon. Working alongside Brandon for the past 12 years, I have had a front row view of the impact he has on the world, and it is incredible."
The Young Alumnus of the Year award is designed to recognize alumni who are 30 years old or younger and have made a significant impact on the world since graduation. This year, the University will honor two deserving alumni: Zachary Keller and Kayla Lane.
Keller is a 2012 graduate of Huntington University, and he has spent his career teaching others. Though he currently serves as a math teacher in Jay County High School in Portland, Indiana, as fellow alum Grace Kaufman pointed out, "math teacher" is accurate but doesn't quite sum it all up.
"Zach is, in short, serving in the mission field of teaching high school math," said Kaufman. "It is truly so much more than teaching math to teenagers. Zach is serving as a leader… His work qualifies as thankless and selfless in so many ways."
Lane is a 2015 graduate of Huntington University, and she has spent her young career inspiring others through stories. Lane launched her own business, Studio852, a few years ago as a way to tell the stories that inspire her and to tell stories that matter. While pursuing those stories she found a place on the teams of award-winning films and shows like The Irishman and The Mandalorian. Though her resume is filled with impressive accolades, those who nominated her cite her passion for her faith, friends, family and Foresters as the reason for the nomination.
"[Kayla] has a deep love for Huntington University and understands how the faculty and staff influenced her to be her best," said Marcy Hawkins, director of the Forester Fund at Huntington University. "She is not afraid to share with others about her faith and values."
The four honorees will receive their awards during the Davis Hall: Larger Than Life event on October 1 as part of HU's Homecoming Weekend. The event will take place at 7:00 p.m. in Zurcher Auditorium in the Merillat Centre for the Arts.