Fetters' essay wins Centre for Non-Western Studies award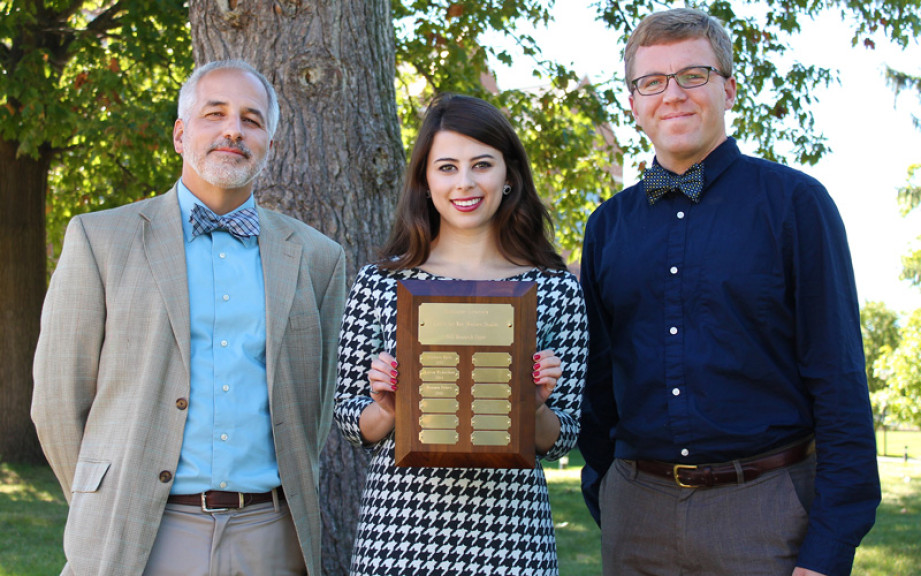 FOR RELEASE: Monday, September 28, 2015
Bronwen Fetters, a senior English writing and English literature double major from Huntington, Indiana, has been selected as the winner of the third annual "Best Non-Western Paper" contest sponsored by the Huntington University Centre for Non-Western Studies.
Her paper, entitled "Burning Love: Marriage and Women in Two Epics," was written in fall 2014 for Dr. Del Doughty's literature course on World Masterpieces. In the paper, Fetters examines portrayals of marriage in Virgil's Aeneid and Valmiki's Ramayana.
"It is an honor to be selected as the 'Best Non-Western Paper' contest winner for 2015-2016," Fetters said. "I look forward to the privilege of presenting my paper in a colloquium this spring alongside a scholar in the field. While not everyone may be familiar with the particular pieces of literature that I examine in my paper, I think the texts explore pervasive questions that transcend time periods and cultural differences. I'm thrilled to get to share some of my work with professors and peers."
The prize for this contest includes a modest cash award and the opportunity to host and participate in a colloquium in spring 2016, which also will include a guest lecture by an external expert in the general area of the paper's topic. In this case, the external expert is Aisha Dad, a Ph.D. candidate in comparative literature at Harvard University whose interests include Greek, Persian and Latin Epic, as well as Urdu folklore.
"We're very proud of Bronwen and the way she has represented HU during her time here," said Dr. John Noble, assistant professor of Bible & Religion / director of the Centre for Non-Western Studies. "One outcome of this contest, I hope, is that other students will be inspired to think about non-Western topics and issues, too, with the understanding that our calling and responsibility extends to the global community."
The purpose of the contest, and the Centre for Non-Western Studies itself, is to foster interest and scholarship among students in topics non-Western, with the understanding that HU's burden of learning and faith integration extends to the farthest reaches of the globe. The Centre was formed in 2009 to support inter-disciplinary research and teaching linked by a shared common interest in non-Western politics, culture and society.
Based in the department of Bible & Religion, the Centre brings together a number of renowned academics at Huntington University working in the fields of Bible and religion, business, English, history and political science, ministry and missions, TESOL, social work and sociology.