FFA Leadership Summit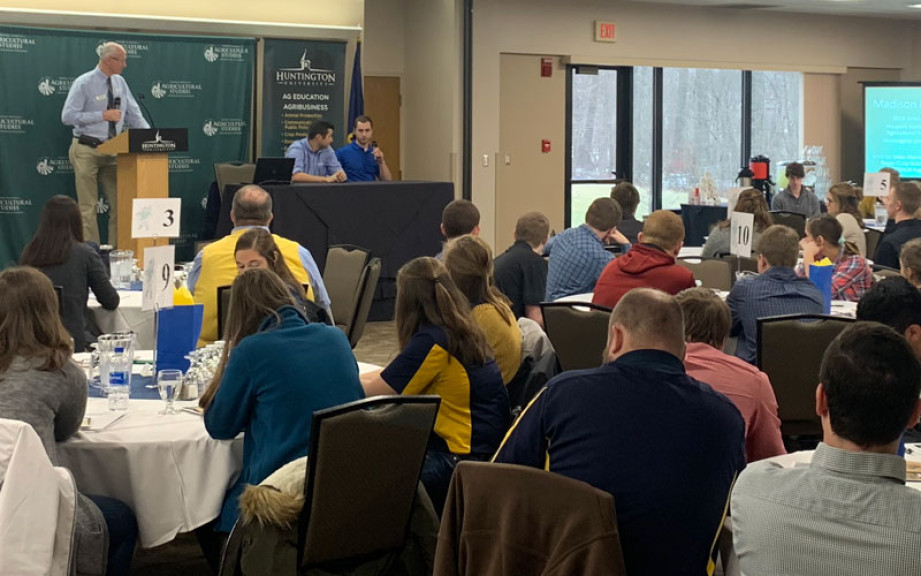 FOR RELEASE: Monday, February 18, 2019
More than 120 students and advisors from 14 area high schools, as well as Indiana State FFA officers, HU alums, and current students converged on Huntington University's campus on Thursday, January 24, to celebrate the FFA Leadership Summit.
"The FFA Leadership Summit continues to be one of the highlight events of the year for me," said Nate Perry, Coordinator of Operations & External Relations for the Haupert Institute for Agricultural Studies. "The passion these high school students exhibit for agriculture is amazing and their enthusiasm is contagious. We certainly appreciate the continued partnership we have with Indiana and Ohio FFA at the state and chapter levels to make this event a success."
This annual event continues to garner interest for the local ag audience, but also from regional businesses and ag organizations. In fact, this year's keynote speaker was Jane Ade Stevens, CEO of Indiana Soybean Alliance.
"It's great for Indiana agriculture to have Huntington University offering an agriculture degrees," said Ade Stevens."As agriculture continues to adopt advance technologies to grow our crops and livestock we need students who want to use their skills to move ag into the next technology revolution on and off the farm."
Huntington University's ag program is also grateful for the continued support of the Indiana FFA.
"I appreciate what Huntington University does to help us not only grow our young leaders in the FFA, but also help provide development opportunities for their advisors," said Joe Martin, Program Specialist – Indiana FFA. "At the recent Huntington University FFA Leadership Summit, FFA advisors from Indiana and Ohio were able to learn about facilitating an officer retreat and were also able to collaborate to learn about each other's best practices to help make their FFA chapters better for their students."
The Haupert Institute for Agricultural Studies opened in the fall of 2015 and promotes a Christian perspective on agriculture, which recognizes the responsibility to be good stewards of God's creation and to examine questions of sustainability and justice. The institute is intended to help meet the growing need for agriculture professionals and offers eight concentrations in agribusiness as well as an agricultural education degree.