First HU Arizona Graduate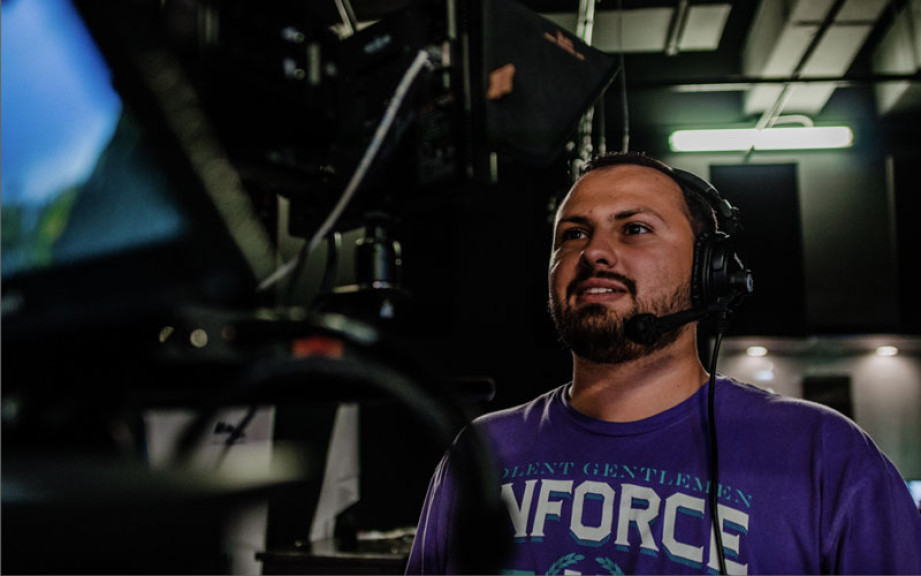 FOR RELEASE: Tuesday, February 5, 2019
Huntington University's Arizona Center for Digital Media Arts is pleased to announce its first ever graduate: Matthew Torres-Gomez
Torres-Gomez, a Glendale native, was among the first 16 degree-seeking students enrolled in the Center's inaugural semester in the fall of 2016. He spent a total of five semesters at HU Arizona, fewer than a traditional student, because he arrived with an associate of arts degree already in hand.
The pursuit of a bachelor's degree in film production and broadcast media at Huntington University Arizona brought Torres-Gomez a variety of practical experiences that would strengthen his professional skills and talent for filmmaking. His "pioneer spirit" – a term coined for this ground-breaking class of students by Director of Arizona Operations Jeff Berggren – made the most of the multitude of opportunities HU Arizona provided, and his student work garnered both regional and national awards. In 2018 alone, he was nominated for three Student Production Awards, part of the Rocky Mountain Emmy Awards competition, and he won the award for College Music Video.
One foundational aspect of Torres-Gomez's HU education was internships. He completed work for Major League Baseball during spring training at the Peoria Sport Complex (conveniently located across the street from HU Arizona) and for the Arizona Diamondbacks.
"It has truly been a dream of a lifetime to work in sports broadcasting with the Diamondbacks and learn hands on from the professionals who do this for a living," said Torres-Gomez. Internship supervisors praised Torres-Gomez for his professionalism and versatility of skills.
Torres-Gomez's final internship, a spot at AZ 3TV/CBS 5 in Phoenix during his last semester, led to a career opportunity after graduation. At AZ 3TV, Torres-Gomez is currently working full-time for the largest broadcast news operation in the state of Arizona.
Earlier this year, the Board of Trustees and HU Arizona recognized Torres-Gomez as the first Peoria graduate at a student project showcase during the annual Board Retreat, which took place in Peoria.